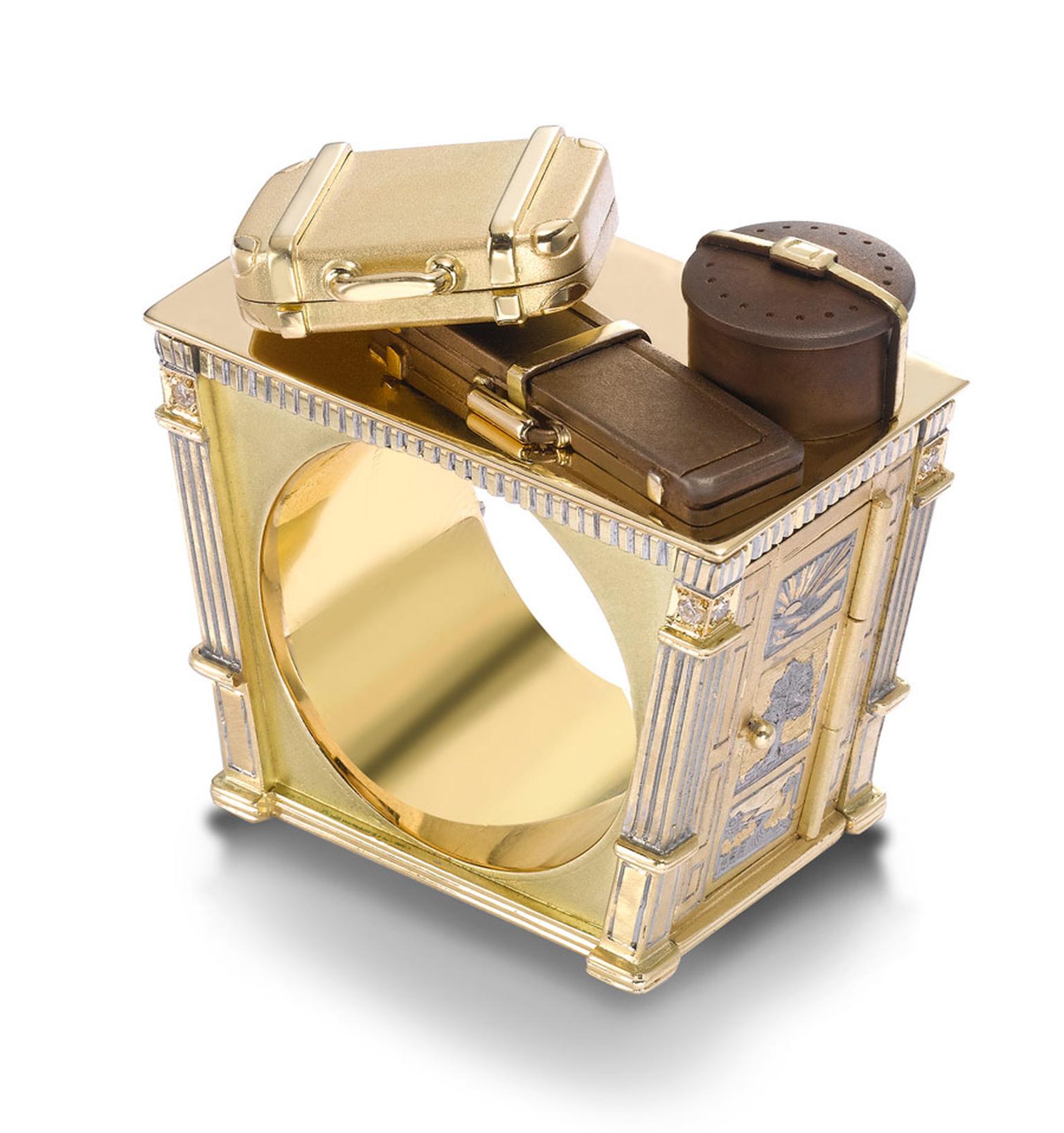 Theo Fennell's jewellery has always been concerned with crafting grand detail on a miniature scale. Be it his recent Masterworks collection, fine or silver jewellery, the intricate narratives he weaves are miniature worlds brimming with stories to tell. I had the chance to see some of these whimsical creations at the recent Masterpiece exhibition in London.
All of the rings here are from Theo Fennell's 'Masterworks' collection, which brings together the very best pieces crafted in their London workshop. The idea is that these are both technical and design 'masterworks'. It's easy to see why: playful, detailed, and always surprising, these are miniature sculptures more than simply rings. The 'Wardrobe' ring takes the world of C.S. Lewis' Narnia and recreates one of its most memorable and symbolic motifs. Just as Peter, Susan, Edmond and Lucy stepped from one world and into another, so can you. The miniature suitcase opens and surprises with a spider and the wardrobe swing open onto enamelled landscapes of the snowy lamp post scene in Narnia or winter coats hanging above shoes.
As anyone familiar with Theo Fennell will know, the Chinese Secret Garden ring is typical of his work, with secret doors and suprises. The tiny hinged golden doors reveal miniature Chinese gardens painted in enamel, while the 'Pyramid' ring not only hides a sarcophagus but also a mini-mummy -  that can be removed if you so wish. Alongside the painstaking craftsmanship there are some colourful stones. The blue topaz in the 'Under the Sea' ring is literally an ocean of blue.  The 44.87cts blue topaz is surrounded by tiny fish, seahorses and coral,  that is both eye-catching with its vibrant stone yet framed with the delicate and intricate Fennell touch.
Beyond the 'Masterworks' collection is the cufflinks collection. Each with its own easily recognised themes, these yellow and white gold accessories feature tiny little landscapes painted in enamel. With pieces like these Theo Fennell is making even the smallest part of a man's wardrobe a very big deal. But even these little treasures are not all the Fennell has put his feverishly creative mind to recently. The 'King's Road Railings' Bracelet captures a mundane London scene of a bicycle tied to railings - but all in gold. This pieces shows the skill and  tongue in cheek wit of Fennell as well a being a personal homage to Theo's formative years in one of London's best known areas. British to the core, yet light-hearted, this bracelet is a fine example of Theo Fennell's wonderfully individual and eccentric world.
Theo Fennell Beehive ring in white, yellow and rose gold - £14,800

The Beehive rings opens revealing a miniture Bee to bright Yellow Sapphires sparkling out of the honeycomb - £14,800

The Theo Fennell Under the Sea ring features finely detailed fish, seahorses and coral around a 44.87ct Blue Topaz. The Topaz is incredible clear and beautifully mimics the depth of the sea - £21,000.

Classically Theo Fennell, the Wardrobe ring features a working miniature suitcase that opens to reveal a surprise or two - £29,500.

The sides of the Wardrobe ring show both sides of C.S. Lewis' world as one travels from our side of the wardrobe... - £29,500.

... and into the land of Narnia itself - £29,500.

Theo Fennell Essex Crystal Moon cufflinks in white gold with hand painted enamel- £9,800

Theo Fennell Matterhorn Ski Goggle cufflinks in white gold with hand painted enamel - £8,250

Theo Fennell Rearview Mirror gold cufflinks, with a wonderfully realised Ferrari in enamel - £8,250

Theo Fennell white and yellow gold Frog on a Lily Pad cufflinks - £4,950

Theo Fennell Kings Road Railings bracelet Handmade in yellow gold, enamel and diamonds. It pays homage to one of Chelsea's most legendary landmarks: the Kings Road, where Theo spent many of his formative years. POA.

The ring opens to reveal an intricately-realised little frog. POA