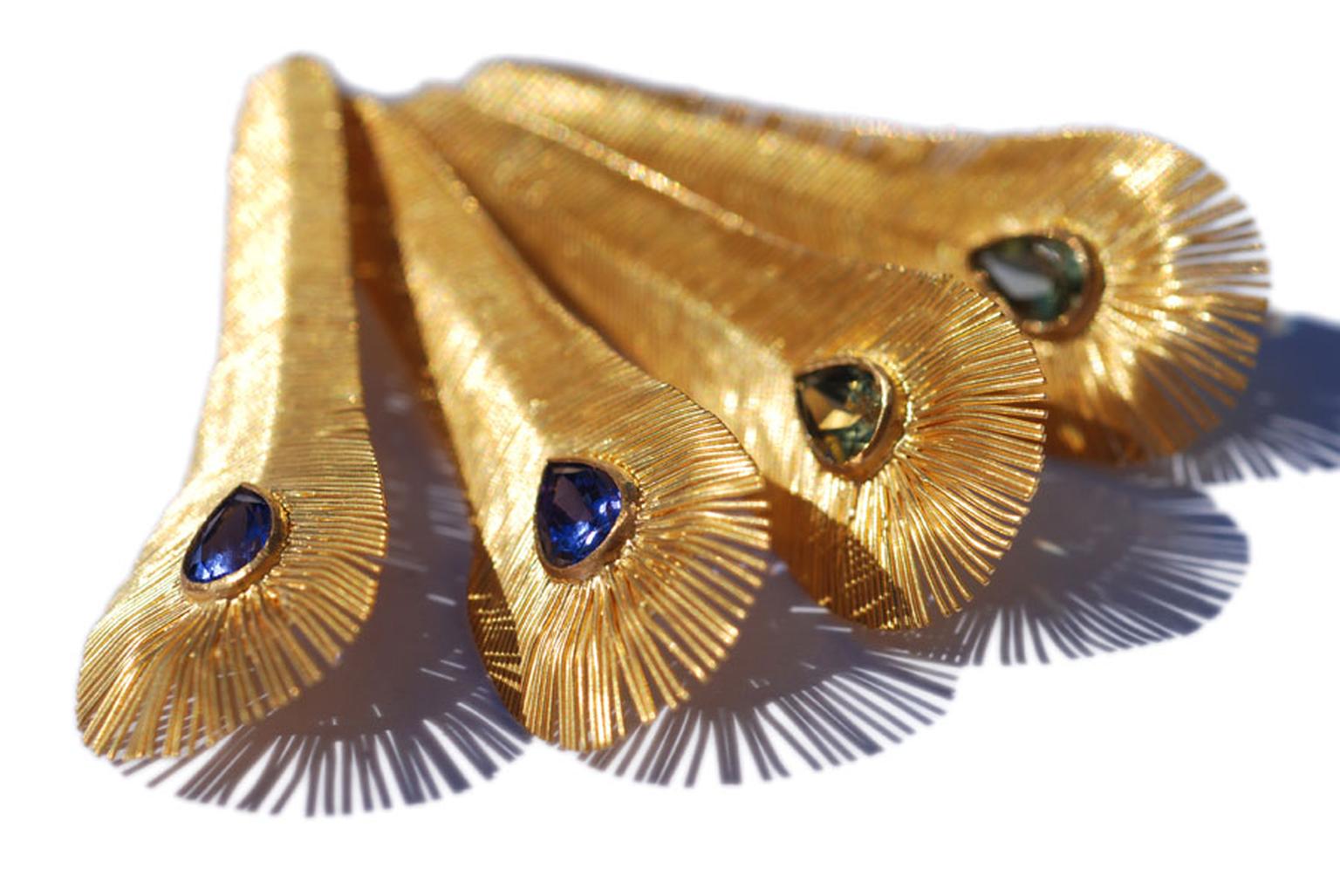 For over 15 years, Parisian jeweller Marie Helene de Taillac has been creating beautiful designs that have shaken up the world of fine jewellery. Her passion for colour and fascination with jewels was the prompt she needed to switch careers from fashion to jewellery design and, since her first collection launched in 1996, she has become renowned throughout the world for her work with semi-precious gems.
Over the years she has developed her own unique style. Each piece has been designed to show off the colour and beauty of the stones. Right from the start, de Taillac shied away from the obvious gemstones and chose to work with tourmalines and other semi-precious stones instead, which she chose primarily for their fabulous shades. Her interest went well beyond their colourful properties and she started looking at new ways of cutting them, pioneering the use of the droplet-shaped 'briolette' cut, which is traditionally reserved for diamonds - a style you'll often see in her work. 
Since 1996, de Taillac has opened up shop in Tokyo, Paris and, most recently, in New York earlier this year, though it's India from which she takes most of her inspiration. All her jewellery is crafted in Jaipur, right down to the chains, all of which are made there by hand. She employs Indian artisans to implement traditional techniques, including weaving gold and applying silver leaf beneath gemstones to give maximum shine, giving her work an authentic Eastern aesthetic. 
De Taillac splits her time between Jaipur - overseeing the creation and development of new jewellery - and France, her home country. A true Parisian, de Taillac's jewellery isn't too polished or preened. She wants women to wear her jewellery everday, whether dressing up for an evening out or hopping on the tube. Her jewellery even looks great with jeans - a sentiment which clearly resonates with modern women the world over because her jewellery was quickly picked up by Barney's in New York, Browns in London and Colette in Paris, and now sells across the world.
Marie Helene de Taillac necklace featuring the briolette-cut semi-precious stones that she pioneered.

Marie Helene de Taillac "Pansy" ring.

Marie Helene de Taillac gold cuff with multi-coloured gems.

Marie Helene de Taillac "Sequins" necklace made with hundereds of gold paillettes.

Marie Helene de Taillac "Cabochon" ring from 1997.

Marie Helene de Taillac gold sequin cuff bracelet from 2000.

Marie Helene de Taillac "Lady-like" diamonds necklace from 2007.

Marie Helene de Taillac "First Lady" necklace made with bright cabochon stones set in unpolished gold, from 2010.

Marie Helene de Taillac gold "Swivel" ring from 2004.

Marie Helene de Taillac "Elizabeth T." earrings from 2005.

Marie Helene de Taillac ring set with unpolished gold.

Marie Helene de Taillac "Marguerite" ring. Inspired by Lady Diana's famous engagement ring, the "Marguerite" revisits a classic with a central moonstone surrounded by multicoloured sapphires.