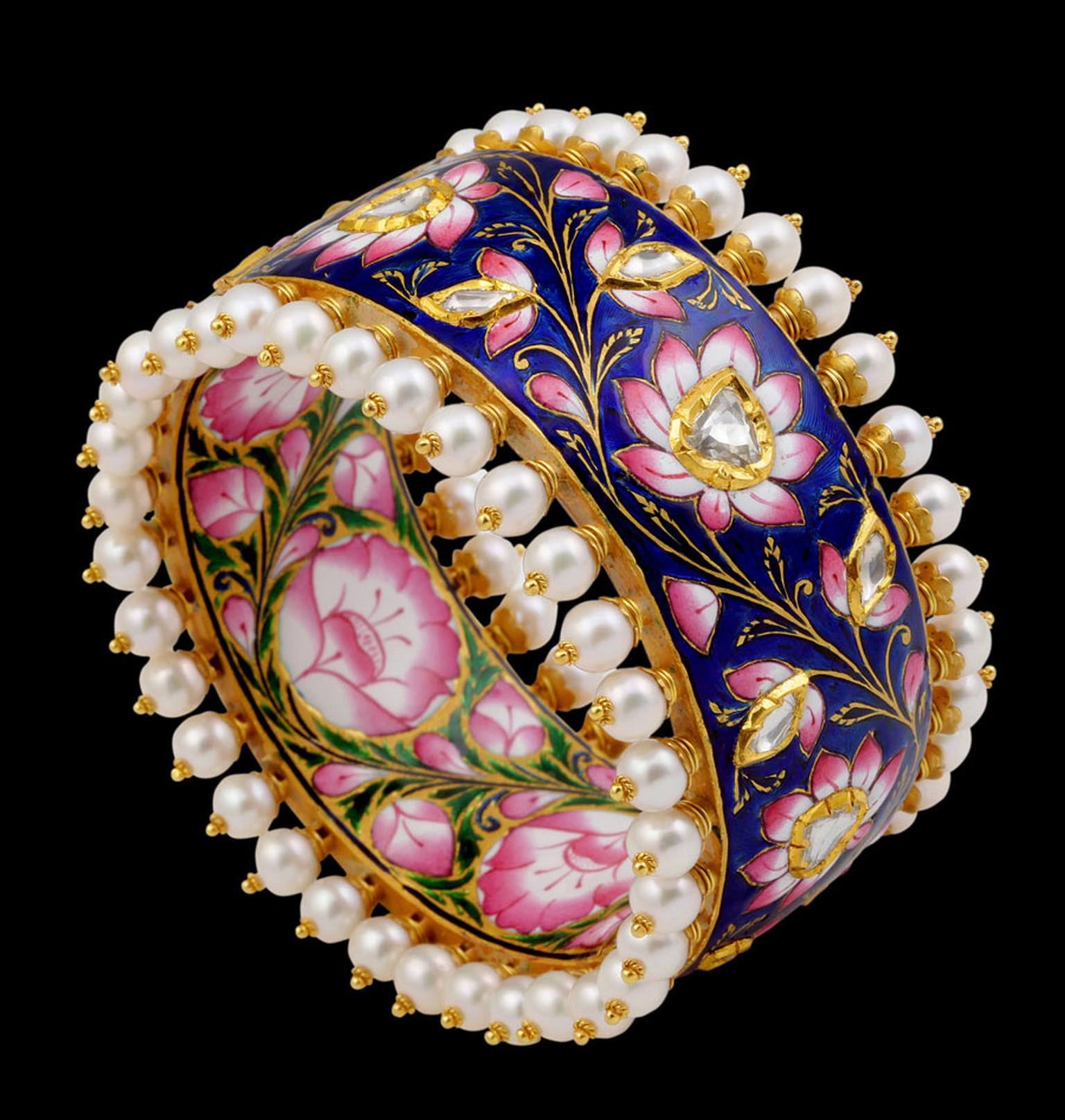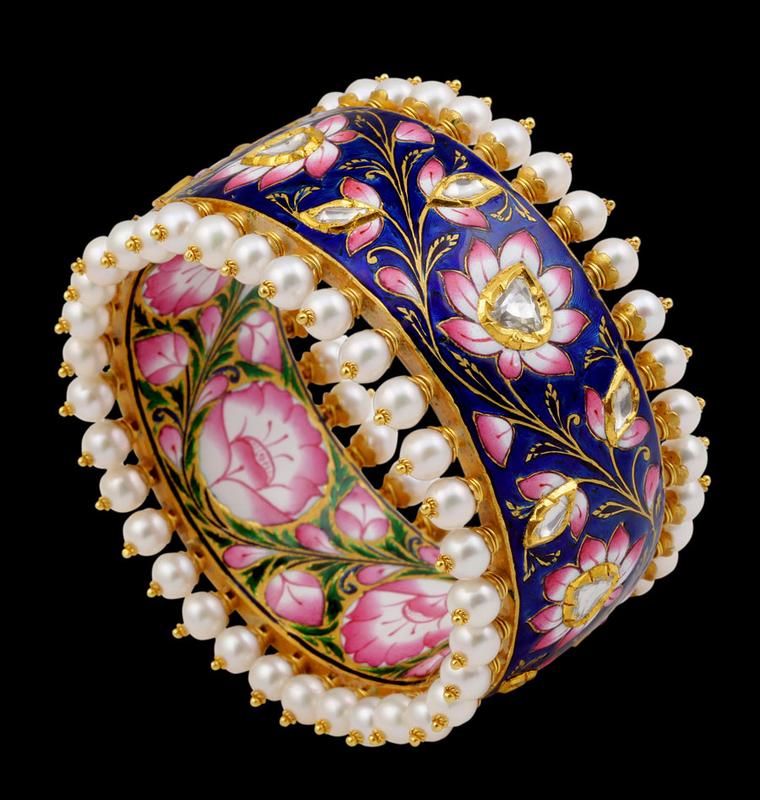 While in Jaipur I had the good fortune to meet Sunita Shekhawat, a remarkable jeweller who jokingly refers to herself as the "Hermès of India" because of her dedication to perfecting and bringing new life to the refined Indian art of enamelling known as 'kundan meena'.
Her jewels burst with colour and ripple with life as her delicate enamelwork weaves its magic around rose-cut diamonds, pearls and other precious stones. Though Sunita's designs are inspired by traditional Indian jewellery, her designs stand out for their contemporary and eye-catching mix of colours and outstanding workmanship.
Sunita's delicate creations are the work of a brave and determined woman. "The karigars - or craftsmen in Hindi - are very skilled but erratic so I have to spend a lot of time with them," Sunita tells me over a cup of tea. "I started working among the artisans in the bazaar 17 years ago to make my first collections, which started out as a hobby. It is very difficult to be a woman in this male-dominated industry. At first the karigars would not take orders from a woman," says Shekhawat as she rolls her eyes with a smile.
"I want to offer something different that is authentic," she continues. "It would be tempting to make something fashionable, but you might not want to wear that in 10 years time. So I have taken a fresh approach to the traditional art of 'kundan meena', or enamelling, on 22ct gold. I am inspired by the colours of Rajastan and its Mughal influences, but at the same time I want to offer something different in the world of jewellery."
The slow art of the designer and craftsman, enamelling is a precious skill easily overlooked in the world of the celebrity diamond. And there is no room for sloppy work in enamelling. Precision and delicacy are the name of the game.
Looking at Sunita's rich creations in her Jaipur showroom, I try on a bracelet in creamy honey colours, decorated with swirling golden flowers, the rich patterns as intricate as a silk embroidery. The grass-green enamel on a pair of earrings and cuff bracelet is a refreshing take on traditional Indian wedding jewels, and diamonds sit as light as dew on this verdant canvas. Pearls crenellate a midnight blue cuff, around which weaves a trellis of delicate pink roses.
Each piece takes over a month to make and might involve some 45 different craftsmen and processes. For the time being, Sunita sells mainly to Indians who appreciate the colours and tradition of the work. But she is hoping to sell abroad as tourists have shown an interest in her pieces, which stand out as some of the most refined Indian jewellery you are likely to see. Think of it as exoticism with polish. Prices start from £2,000. 
One of Sunita Shekhawat's pendants in 22ct gold with diamonds and enamel decoration on both sides.

Trying on Sunita Shekhawat's beautiful enamel and rose-cut diamond bangle in her showroom in Jaipur.

A Sunita Shekhawat bangle that uses beautiful enamelwork to bring to life the traditional peacock feather pattern.

The Jaipur peacock feather motif shimmers with life in these cufflinks by Sunita Shekhawat.

Unusual use of black enamel on this Sunita Shekhawat bangle in 22ct gold with rose-cut diamonds.

Sunita Shekhawat Chand Balas earrings with pink and blue enamel. Sunita's very refined enamelwork sets her apart.

Sunita Shekhawat's green enamel bangle of leaf motifs with rose-cut diamonds and pearls.

Traditional Indian patterns find a new lease of life in this bangle, decorated with enamelwork by Sunita Shekhawat. All the jewels are made by Sunita's jewellers in the bazaar in Jaipur.

Intricate and refined enamel and setting work can be appreciated in this bangle by Sunita Shekhawat.

Ruby and emerald bangle by Sunita Shekhawat.

Sunita Shekhawat's blue and pink enamel bangle with lotus flowers. Note how it is decorated both inside and out.