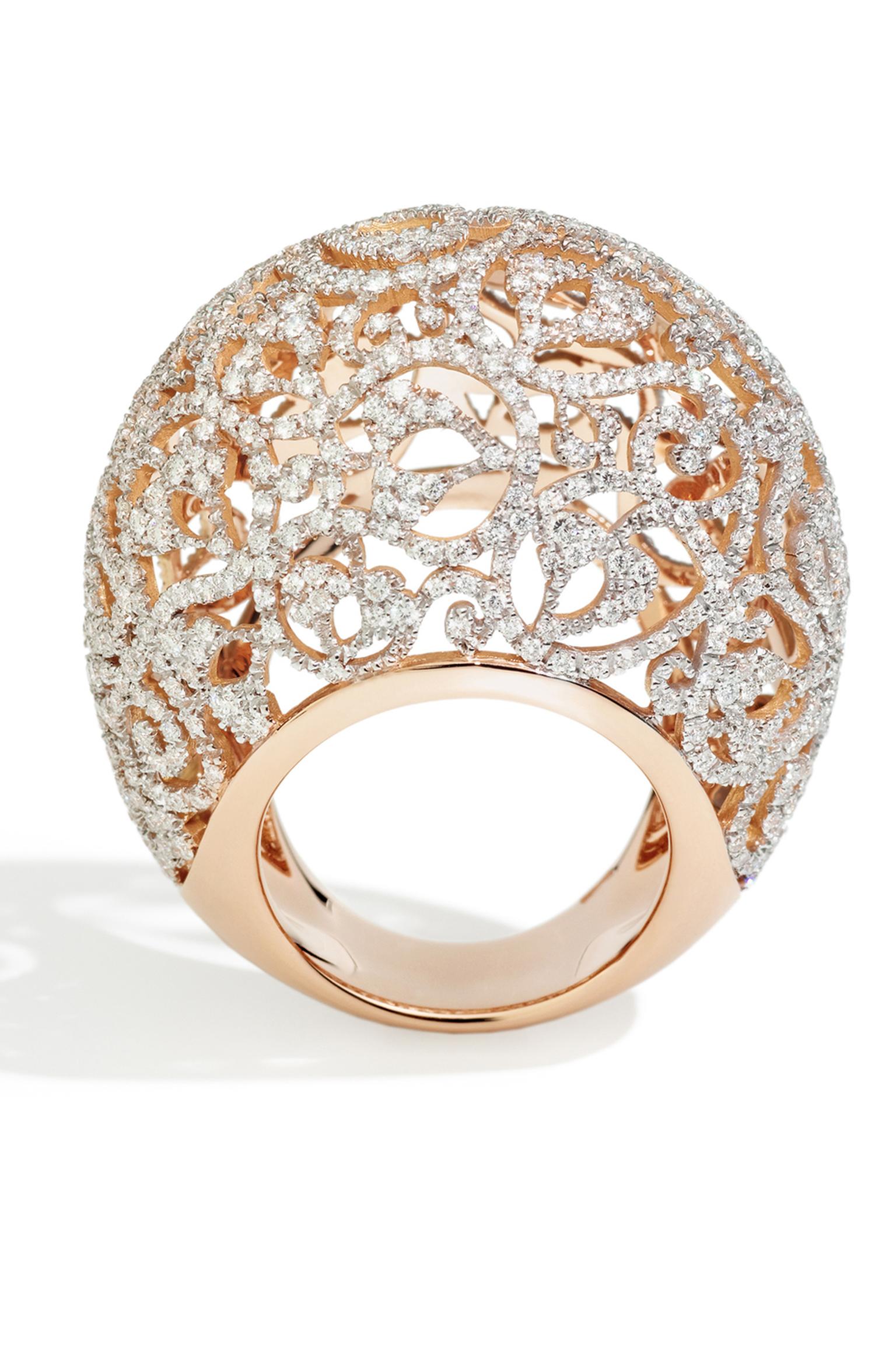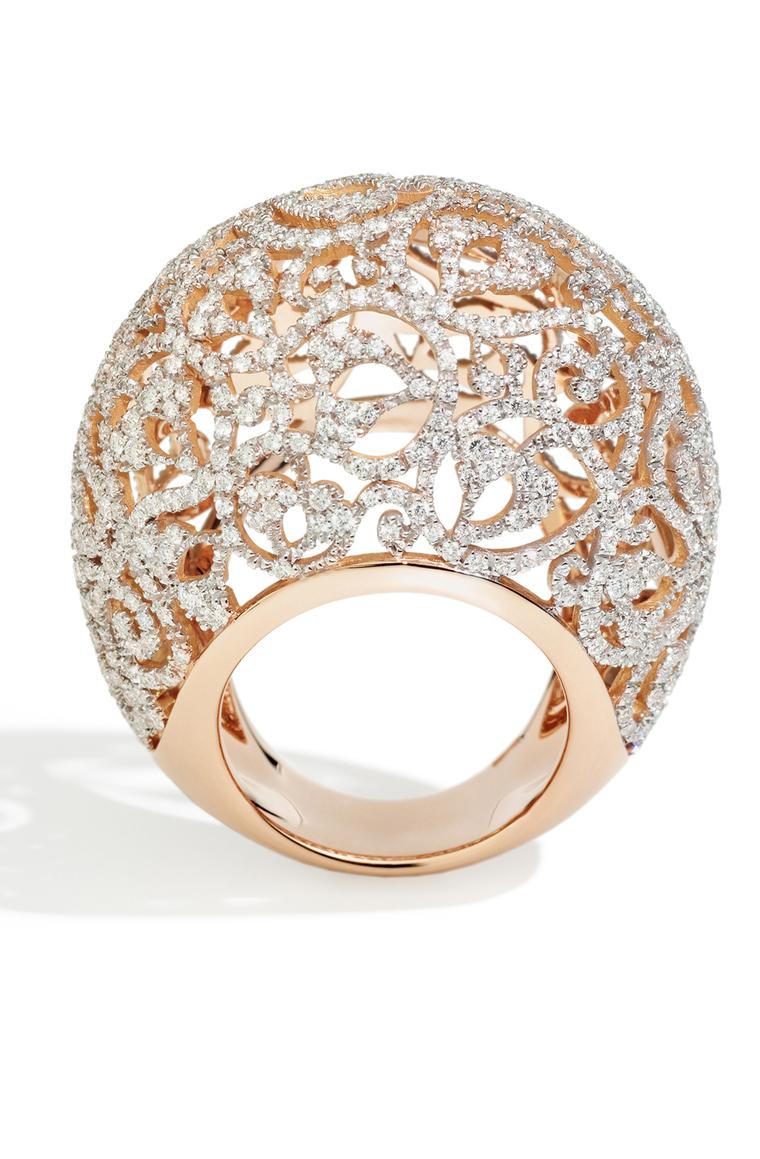 By Maria Doulton in London
The latest additions to Pomellato's Arabesque collection surprise with their bold yet featherlight proportions. Defined by their voluptuous shapes, offset by intricate openwork resembling embroidered gold, these extravagant handcrafted jewels show off Pomellato's prowess as one of Italy's best-known and most creative jewellers.
Among the thirteen new styles that Pomellato has added to the Arabesque collection this year, we have selected these four that are our favourites. The pieces are crafted in warm rose gold and the delicate filigree work that forms the maxi-sized links in the necklace and bracelet ensures they rest lightly on the skin, despite their size. The chandelier earrings, comprised of eight interconnecting openwork drops, three of which are studded with diamonds to emphasise the play on light and shade, are light as a breeze. Oriental influences shine through on the domed Arabesque ring, with 670 shimmering diamonds transforming the exotic design of leaves and branches into bright reflections.
Established 43 years ago in the Italian city of Milan, Pomellato has been forging its own meticulous path in jewellery making for many years. Having started life as a chain maker, the distinctive chain design still appears in every collection, albeit in ever more luxurious and bejewelled forms. From the iconic Nudo collection and its almost infinite combination of stackable rings to the colourful Capri collection, Pomellato jewellery has made a big impression on an international scale, with 56 boutiques worldwide and a global following of innately stylish women.
Pomellato is one of the few luxury names that crafts all of its jewels in-house, and when I visited the brand's Milanese headquarters last year I was able to see first hand this labour-intensive process.
The extensive workshops are home to some 100 craftsmen and women who carefully cast, solder, file, set and polish each and every Nudo ring, Victoria necklace and Arabesque bracelet. The house also uses the ancient technique of lost wax casting to create the free-flowing shapes and soft lines that characterise its jewels. Colour is another defining aspect of Pomellato's collections and, during my visit, CEO Andrea Morante told me that, by blending its own gold, the house has full control over the colours it uses.
Each jewel starts life as a mould, which is then converted into a pink wax model and, finally, cast in Pomellato's signature blended gold. The individual components are assembled by hand, giving the jewels the highly sophisticated and finished look that is the house style - a style that is encapsulated perfectly in Pomellato's new Arabesque jewels.
Pomellato Arabesque collection bracelet in rose gold (£23,800).

Pomellato Arabesque necklace in polished and matte rose gold (£28,500).

Pomellato Arabesque ring in polished rhodium-plated rose gold, set with 670 diamonds (£15,700).

Pomellato Arabesque chandelier earrings in polished rhodium-plated rose gold with diamonds (£11,000).

Pomellato Arabesque ring in polished rhodium-plated rose gold, set with 670 diamonds (£17,500).