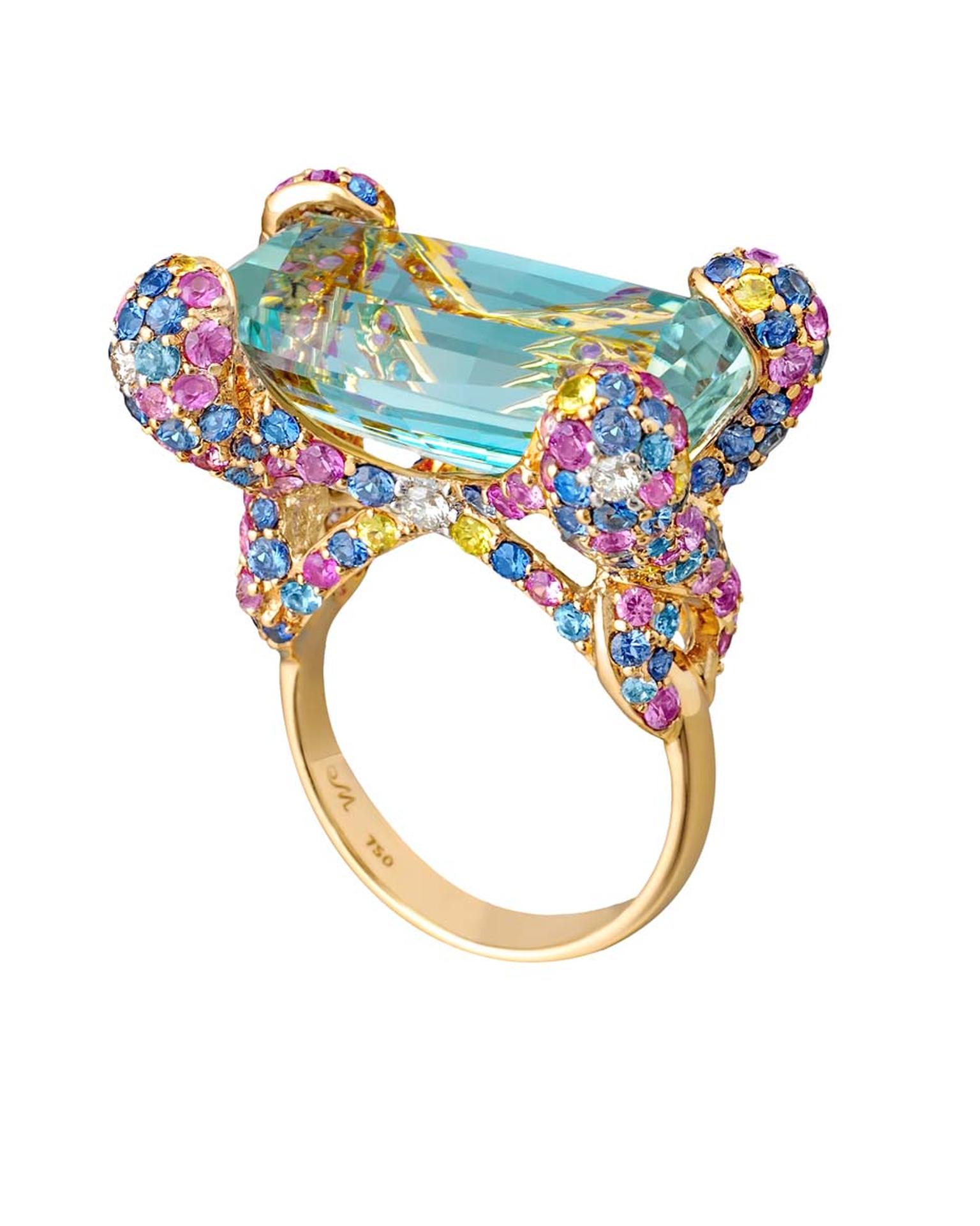 By Åse Anderson in London
I don't know about you, but when I think of Australia my mind conjures up images of barbies on the beach, the rugged outback, the stunning architecture of Sydney's Opera House and, of course, shimmering opals.
The land down under is the world's richest source of opals, producing around 97% of the total supply, primarily from its mines in South Australia. Opal is also the country's national gemstone as well as being the birthstone for the month of October.
Here at The Jewellery Editor we were all obsessed with the gorgeous opal ring by Brisbane-based Margot McKinney jewellery from the moment its picture landed in our inboxes.  Featuring a 24.05ct opal from the famous Lightning Ridge mine, the ring was a given in our recent list of top 10 rings.
But it's by no means the only jewel by Margot McKinney that deserves to be fawned over. As the fourth generation of a family jewellery business celebrating its 130th anniversary, Margot is known in her homeland and beyond for her exquisite one-of-a-kind statement pieces.
And while not all her jewels feature opals, Margot does admit to a serious soft spot for the multi-coloured gemstone, even going as far as saying that "opals are a jewellery designer's dream".  She feels that the recent opal revival is long overdue: "The Australian opal has for far too long been under-regarded and disturbingly poorly set in cheap tourist jewellery as slivers of doublets or triplets."
Designs such as Margot's By the Sea collier, which features a blue green opal from Lightning Ridge and won the International Opal Jewellery Design Award, are helping to catapult this beautiful gemstone into the limelight. Margot adds that what she finds most intriguing about opals is the juxtaposition of the remote arid conditions where the gem is found and its extraordinary play of colours. These can range from turquoise to cobalt blue and emerald green, and from bright orange to a pink that Estée Lauder would be proud of.
While she is still relatively unknown in the UK, Margot McKinney jewellery has been sold through American luxury department store Neiman Marcus for the past six years. She also has a boutique in Brisbane and, going forward, there are plans to expand into other territories including Shanghai, Beijing, Europe and the Middle East. The growth will be gradual to ensure that the quality of Margot's handcrafting, where one piece can take up to a year to complete, is not diluted.
Margot's pieces are inspired by her stylish clientele in places such as Texas, Palm Beach and Tennessee. And let's not forget the gems that shape the design of her stunning jewels. "The extraordinary gemstones with which I work almost always 'talk' to me and we have a little 'conversation' about how they need to be set to release their full and true beauty," says Margot.
Her favourite piece from the current collection is an exceptionally rare suite of tumbled Paraiba tourmalines weighing 520.00 carats. The museum-quality gems from Mozambique range in colour from lime green to aquamarine blue and are destined to become a treasured family heirloom.
Colourful, yet very wearable, Margot McKinney jewellery is designed to be cherished every day, not left to languish at the bottom of the jewellery box waiting for some special occasion.  With an emphasis on versatility, many of Margot's jewels can be worn during the day and then adapted and dramatized for evening with the addition of a pendant drop to an earring or an extension to a collier.
"People often comment that my pieces are easy to wear - perhaps this is because I am a woman designing for women," says Margot.
She draws real pleasure from seeing women wearing her jewellery and many of her customers become collectors of these wearable works of art. "For me there can be no greater compliment," she says. However, there is one lady Margot is keen to adorn with some of her multi-hued jewels: "The cheeky side of me might express a desire to see Mrs Clooney with a custom Margot McKinney piece!"
Margot McKinney Swirl Rings ($29,500 each).

Margot McKinney Baroque South Sea pearl ring with opals, sapphires and diamonds.

Margot McKinney luminescent gem-set collier with Baroque South Sea pearls.

Margot McKinney 145.31ct aquamarine collier in rose gold.

Margot McKinney 69.96ct Paraiba tourmaline cuff with 27.84ct of rose and brilliant-cut diamonds.

Margot McKinney Paraiba Petal Flower ring with a centre pearl.

Margot McKinney pink and green tourmaline and diamond Bow earrings.

Margot McKinney pink tourmaline, white diamond and Tahitian pearl earringsx.

Margot McKinney Starfish earrings with amethysts, diamonds and pink sapphires.

Margot McKinney rubellite drop earrings with Baroque South Sea pearls, sapphires and diamonds ($45,000).

Margot McKinney 28.19ct peridot ring set with white and yellow diamonds.

Margot McKinney 30.68ct baguette-cut pink kunzite ring with brilliant-cut white diamonds.