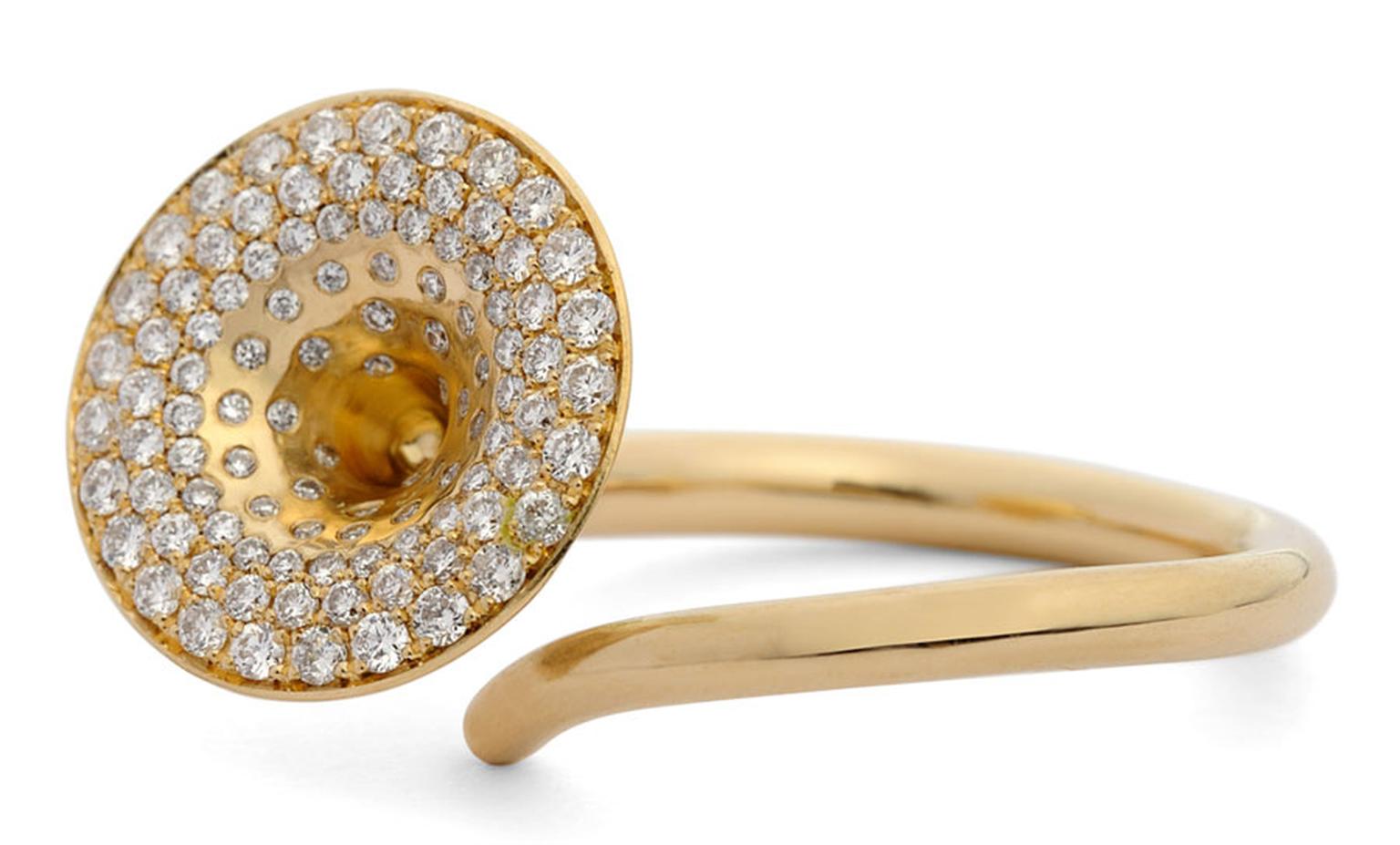 When setting everything in motion and preparing for the big day, the jewellery you wear on your wedding is also the kind you will cherish for life, and whatever you choose, you want it to be unique. To be yours. With the Kath Libbert Jewellery Gallery and their 11th Annual Alternative Wedding Show, you can be sure that you will find some of the most distinctive and contemporary bridal jewellery this year and beyond.
The Gallery itself is well-known for showcasing the work of many modern and internationally celebrated designers, not to mention emerging ones too; that ethos continues with the Alternative Wedding Show, with the 2012 event including pieces from award-winning goldsmiths Jacqueline Mina, Jessica Poole, Mark Nuell, and Graeme McColm amongst others. In fact this year, Malcolm Morris himself will be creating an exclusive collection just for the Kath Libbert Jewellery; Morris has made pieces for the Duchess of Gloucester, Joan Collins, Dawn French, and the stunning tiara worn by Gwyneth Paltrow in the Oscar-winningShakespeare in Love, not to mention his 2002 commission to create a Golden Jubilee tiara for none other than Her Majesty the Queen herself. No doubt his new collection will prove to be a highlight of this event.
One of the defining features of the Kath Libbert Jewellery Gallery and particularly at this year's show is the singularly individual approach that they have always taken when selecting designers - that their work be personal, truly bespoke, and for the more pioneering client. Libbert herself has been quoted as saying her clients 'are interested in jewels that push the boundaries. We think of ourselves as an antidote to the high street.' By emphasising this in the Alternative Wedding Show, the Gallery seeks to bring together a startlingly talented and mixed group of prestigious jewellers to 'breathe new life into pieces' and make them the unique and timeless jewels they were destined to be.
For the bride about to make some very big decisions, this sort of attention to detail and confident support is exactly what one should expect from this year's event, which will see the Gallery turned into an exhibition for every kind of bridal jewellery one could hope to see. There are the stunning gems and precious stones of Marc Nuell's rings, the fluid and awe-inspiring shapes of Jessica Poole's work, not to mention the already legendary work of Jacqueline Mina, a goldsmith whose work has been exhibited worldwide, her unmistakable touch in every piece she creates. Next to them you'll also find exciting creations from Carly Petitt-Taylor, with dark and delicate craftsmanship, as well as Deborah Kelly Hopkins' wrought and highly textured work, and many more.
For a day in your life that is entirely yours, it makes sense to wear jewels that are for you and you alone, and with Kath Libbert's Alternative Wedding Show 2012 you'll find making the hard choices that much more exciting and enjoyable, with works of art to cherish forever.
The Alternative Wedding Show 2012 at Salts Mill runs until 2nd May. For more information, visit the website here.
Carly Petitt. Taylor Black large drop earrings in nylon monofilament - £143

Carly Petitt .Taylor Necklpiece in black and green nylon monofilament - £420

Deborah Kelly Hopkins 18ct gold rings set with diamonds: Plain hammered 18ct white gold band from £1229; 18ct Yellow gold ring with 0.25 ct diamond from £1836; 18ct Yellow gold ring with 1ct diamond, POA

Graeme McColm. Tahitian Pearl Ring in 18ct Gold- £1,992

Graeme McColm. Earrings in 18ct gold with grey moonstone and rubies - £1,008

Jacqueline Mina. Diadem in 18ct gold with diamonds - £4,598

Jacqueline Mina. Ring set in 18ct gold with moonstone & diamonds - from £3,540

Jacqueline Mina. Selection of Rings 18ct Gold with Platinum Fusion inlay and Diamonds, from £1,248 - £1,752

Jessica Poole. Large Trumpet ring in yellow gold and diamonds - £3,300

Jessica Poole. Flat Twist Brushed Gold and Diamond RIng - £1,550

Jo Hayes. Ward Ring in 18ct yellow gold with citrine - £3,552

Malcolm Morris. Wrap Ring 18ct white gold, sapphires and diamonds ring - £3,670