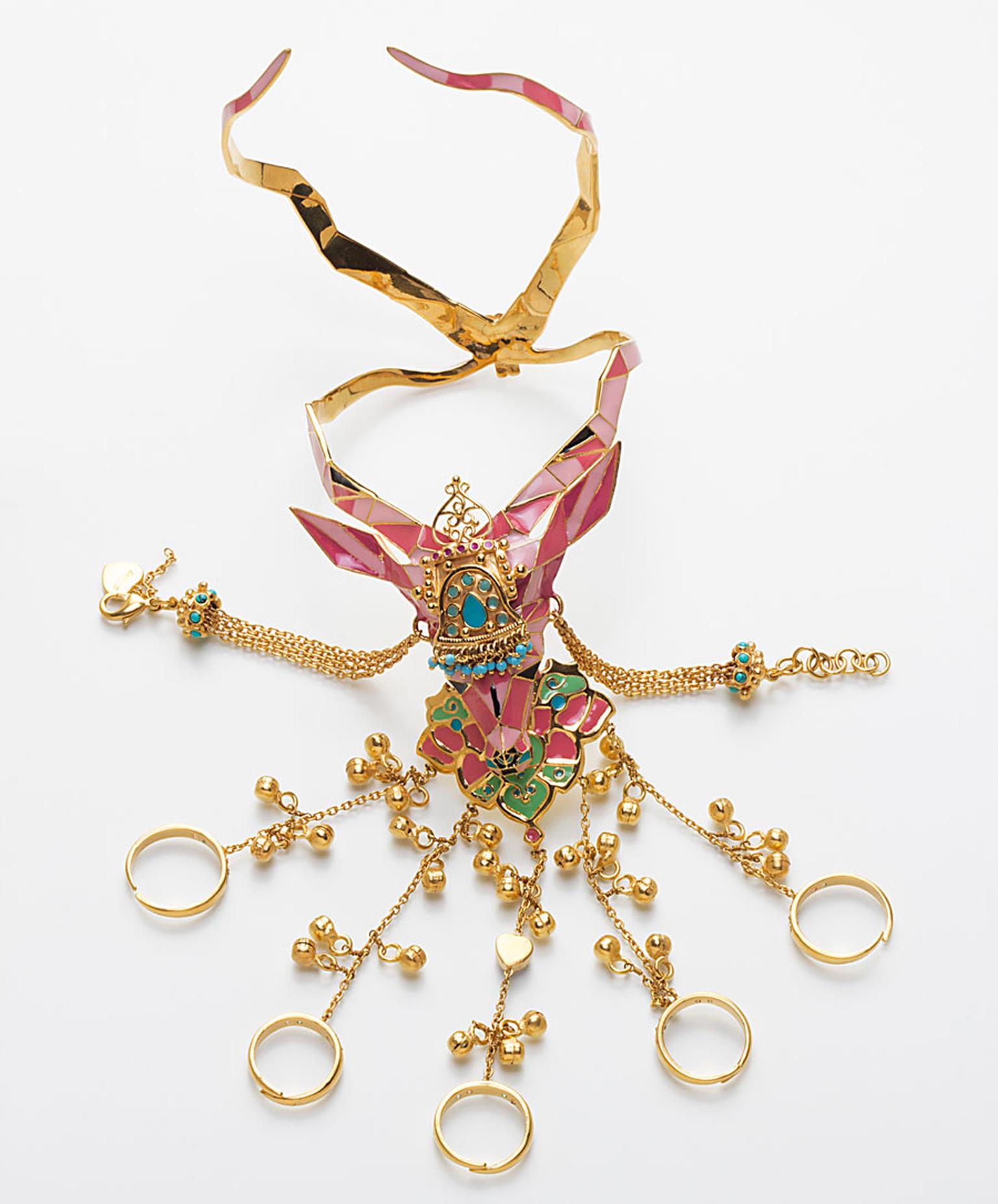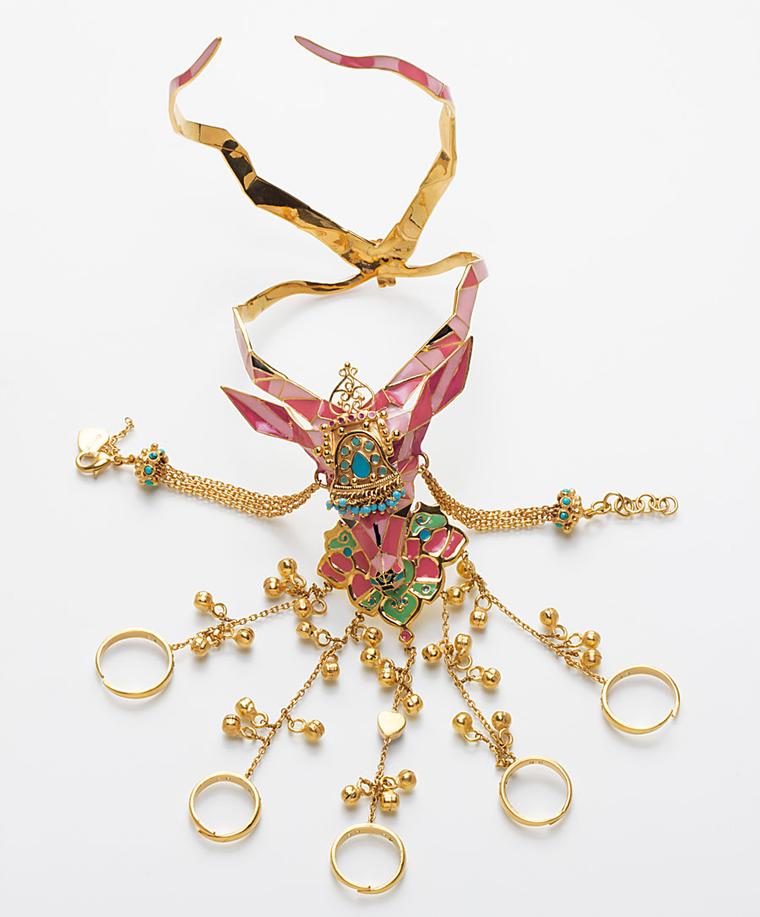 Text by Annabel Davidson, Senior Editor of the Vanity Fair Jewellery Supplement.
Two things were particularly evident at the BFC Rock Vault, staged during September 2012 fashion week in London. Firstly, the Stephen Webster-curated, Palladium-sponsored jewellery showcase, in its second year, had really upped its game, with far more media and buyers thronging the installations than at its first appearance in February. Secondly, and more excitingly for someone who asks "ooh, can I try that on?" way more often than she should, there was an enormous number of pieces on show that spanned multiple digits, if not the entire hand.
Multi-finger rings and hand-spanning pieces aren't new, but to see examples of them at almost every stand at Rock Vault suggests they are having a moment. Melanie Georgacopoulos, the London-based Greek designer who slices, dices and generally does exactly what you're not supposed to do with pearls to beautiful effect, stretched seven of the orbs across several fingers in one ring. Meanwhile, Sophie Bille Brahe's Palais d'Emeraude ring saw an entire city perched in miniature atop one's hand. Yunus and Eliza's skyscraper ring was like a beautiful insect spanning an entire finger's length, while Tomasz Donocik's offering was a more literal bug: a shimmering dragonfly sitting horizontally across the digits.
And as if to prove that they aren't just the stuff of talented young jewellers' creative wanderings, hand and multi-digit pieces have started popping up everywhere, and at far more established houses. At David Morris, yellow and white diamond flowers wrap their tendrils around the wrist and fingers like an exquisite, creeping tattoo. Manish Arora and Amrapali's collaborative collection of chunky, candy-coloured pieces, meanwhile, is a trippy take on traditional Indian tribal jewellery. Their Gazelle hand jewel envelops four fingers, the hand itself and a large stretch of wrist, all in gold plate, pink enamel and plenty of bell-covered chain.
Elsewhere, budding New York-based label Sorellina, a collaboration between sisters Kim and Nicole Carosella, showed a couple of major rings on their recent London visit. Their Hailstorm Fiore ring combines both new and vintage Old Mine diamonds in a bursting bouquet of gold and platinum that sits prettily across two fingers.
Multi-finger rings may be bold and wearable, but it takes a certain type of woman to wear something that entirely covers her hand. That's not to say that they should be reserved solely for the likes of Lady Gaga or Rihanna, though. Imagine the David Morris hand jewel worn with a plain black column gown to a black tie event or the Amrapali/Manish Arora piece teamed with leather trousers and a chunky short-sleeved knit and the trend doesn't seem so outré after all.
Tomasz Donocik ring in palladium, created for the Rock Vault at London Fashion Week. The ring spans several fingers.

Sophie Bille Brahe ring.

Melanie Georgacopoulos ring.

Sorrelina hail storm fiore ring.

Amrapali hand-cuff with four rings.