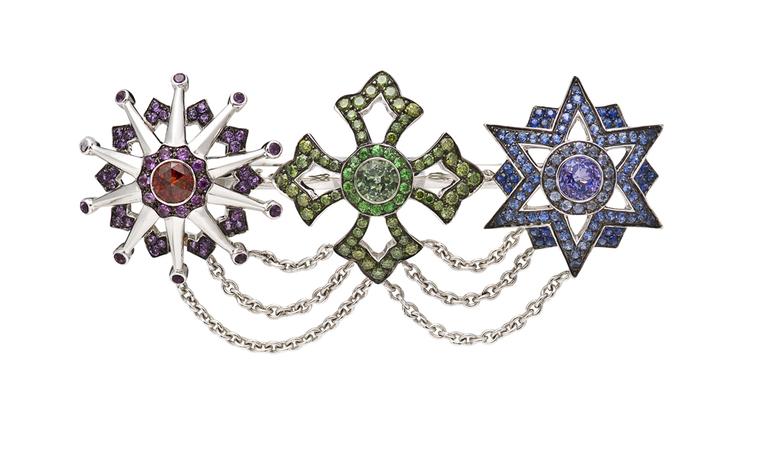 Jewels with a strong military inspiration make their debut at the oldest jewellery house in the world as Garrard's Star and Garter collection goes out on parade. Garrard the house that is synonymous with British jewels and of course military medals and regalia brings the two together in the new Star and Garter collection designed by Creative Director Stephen Webster. This large collection with over 40 pieces of jewellery is inspired by bold, statement regalia and bristles with military symbols and livery that is set to pull rank. And Garrard has a weighty history when it comes to medals. In 1867 Garrard supplied the Collar and Badge of the Most Noble Order of the Garter that was presented to Emperor Alexander II of Russia by Queen Victoria and in 1911 the Garter insignia was made for HM Queen Mary, and in 1947 the bejewelled Garter Star was made for HM King George VI. Based on the theme of these medals, including the rich colour of the ribbons and embroidery of the uniforms, the central motif of the collection is the military star as seen in the Star and Garter cufflinks. This traditional men's accessory emblazoned with blue sapphires and white diamonds reflects the style of military medals. The clever hand and wit of Stephen Webster is evident in the white gold and diamond cufflinks with a blue topaz at the centre: the was carefully selected in an unusual deep sea blue, in a nod to the naval artillery. The pride and grandeur associated with the military beam out from this collection that will have you walking with a ram-rod straight back and off polishing your shoes every five minutes. About turn!
Star and Garter Collection by Garrard. Left: Blackened white gold and sapphire drop hoop earrings: Price from £7000. Right: White gold ring with tanzanite centre stone and paved with diamonds, sapphires and tanzanites: Price from £4800.

Star and Garter cufflinks . White gold set with London Blue Topaz. Price from £7000.

Star and Garter double ring. Black gold with Red Garnet, Amethyst, Green Diamond, Tsavorites, green tourmaline, Tanzanite and blue sapphire: Price from £8500.