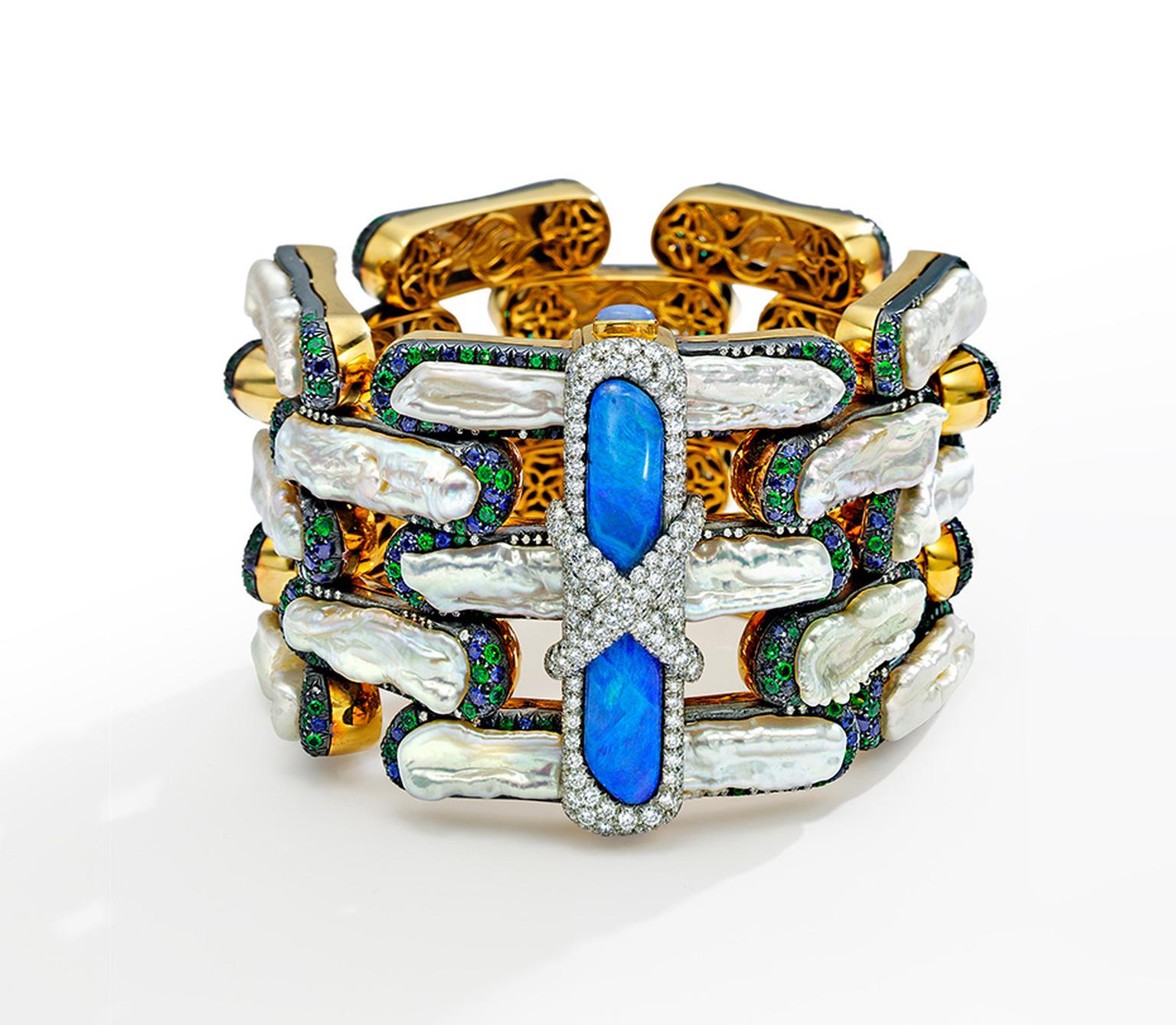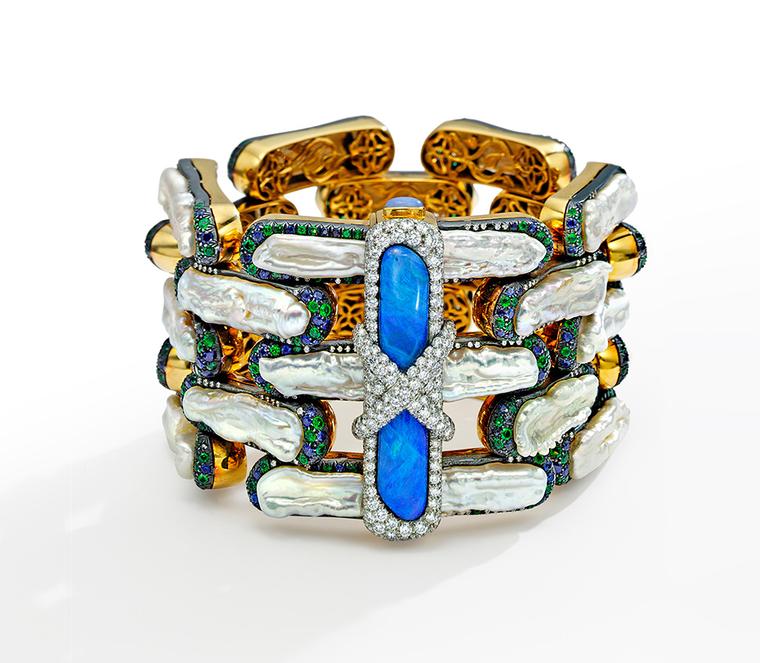 By Anthony DeMarco in New York
The 28 white "bricks" in Nicholas Varney's handmade five-row cuff are natural freshwater pearls surrounded by pavé-set diamonds, emeralds and blue sapphires that glitter in blue, green and white. The reverse of each pearl brick is fitted with a polished yellow gold bow-motif grill. The clasp is made of two long opals surrounded by pavé-set diamonds. Fronting the opals is more diamond pavé in a cross-hatch pattern, mounted in yellow gold and oxidized silver.
This cuff is typical of Varney's work in that it is bright, bold and highly creative. Each piece employs a variety of jewellery-making techniques and materials - precious and otherwise - in unusual ways that may seem burdensome and incompatible yet, when completed, are refined and tasteful. It is serious haute couture jewellery raised to the level of wearable art. 
However, it is atypical in the sense that it is a small example of the vast palette of materials, techniques and styles used by a designer who stresses creativity over everything.
"The thing I look for in jewellery is the fun of it. I really don't care if it's a million-dollar stone or a 10-dollar stone," explains Varney. "Precious is an invented term people like to apply. Precious does not mean rare. I love precious stones, but that doesn't make them any rarer than others."
For example, his more recent works, a ring and sliding pendant, have a cracked mosaic white surface. The material and technique Varney used to create this effect is known as Coquille D'oeuf, which literally translates as eggshell. It is a Vietnamese lacquer technique, adopted by the French, that is most commonly used as a surface treatment for interiors and furniture. Varney is using eggs from Rhode Island Red chickens raised on his farm in upstate New York, which are fed and bred for their shells.
All of Varney's pieces are handmade and crafted in-house, which gives him total creative control, including the freedom to fail. "It's an unusual balance as we really emphasise the creative. We kill probably about 75 per cent of the waxes," he says. "We try a lot of stuff, some of which fails miserably, while other pieces are a success."
It's those successes that jewellery collectors fawn over at Bergdorf Goodman in New York, at Neiman Marcus  in Dallas and St. Louis, and at retailers in luxury vacation resorts including Palm Beach, Naples and Carmel-by-the-Sea in Florida; Aspen, Colorado; and Jackson, Wyoming.
Nicholas Varney 2012 Upperline bracelet featuring fire opal, diamond and gold.

Nicholas Varney 2013 Knightsbridge bracelet featuring fire opal, diamond, purple sapphire, moonstone and gold.

Nicholas Varney 2013 Hawk brooch featuring campbellite, diamond, sapphire and gold.

Nicholas Varney 2013 Boca Grande bracelet featuring natural pink conch pearl, fire opal, diamond, sapphire and gold.

Nicholas Varney 2013 pink tourmaline earrings featuring cognac diamonds set in gold.

Nicholas Varney 2012 'Duo' gold rings featuring carved labradorite, pink tourmaline and diamonds; carved nephrite jade, amethyst and diamonds; and carved striped agate, California pink tourmaline and diamonds.

Nicholas Varney 2012 mother of pearl, ebony, diamond and gold earrings.

Nicholas Varney 2013 'Duo' earrings featuring two pear-shape aquamarines set into hand-carved gaspeite, paired with two pear-shaped peridots set into hand-carved turquoise and joined by yellow gold and diamonds.

Nicholas Varney five row Brick bracelet featuring freshwater pearl, black opal, sapphire, emerald, diamond and gold.