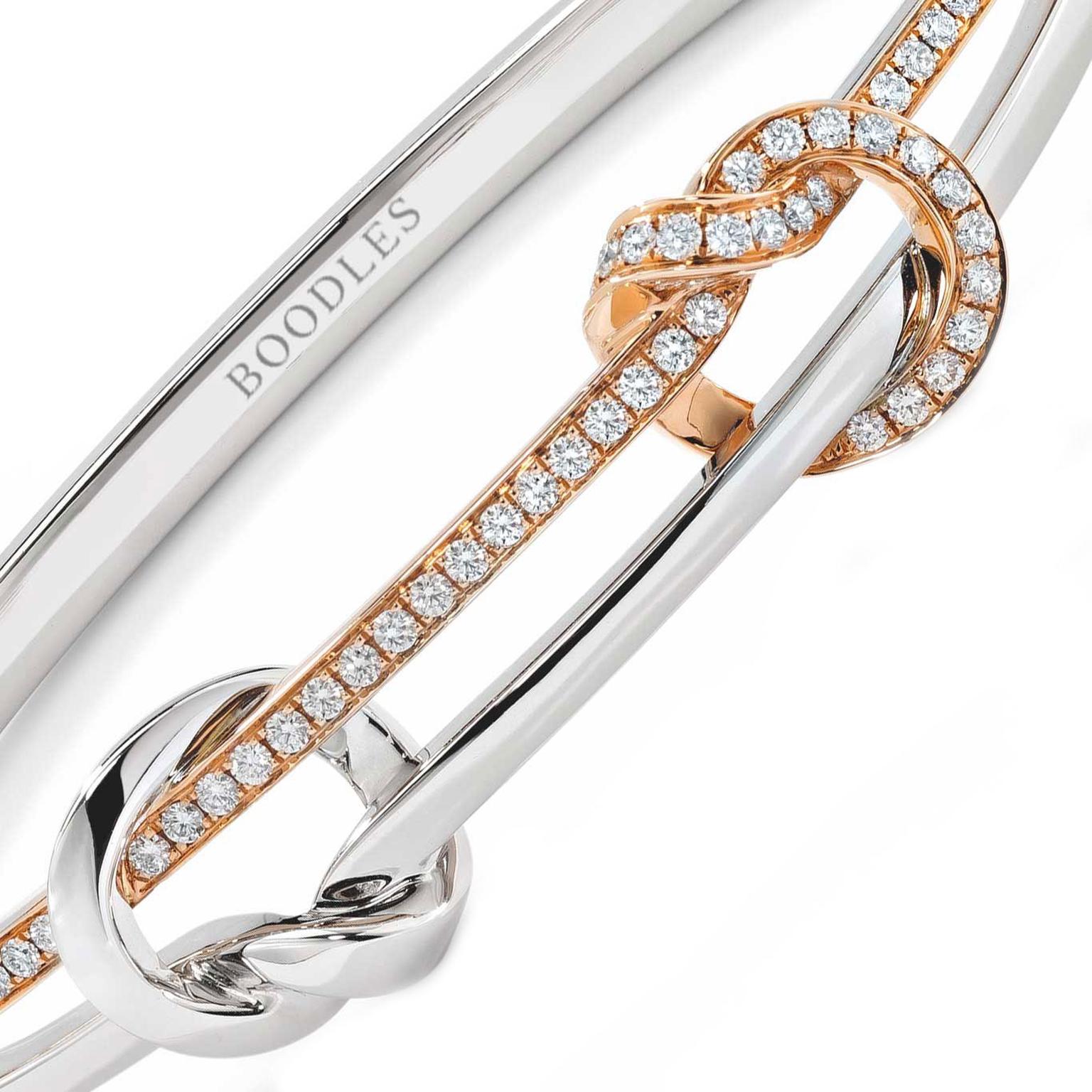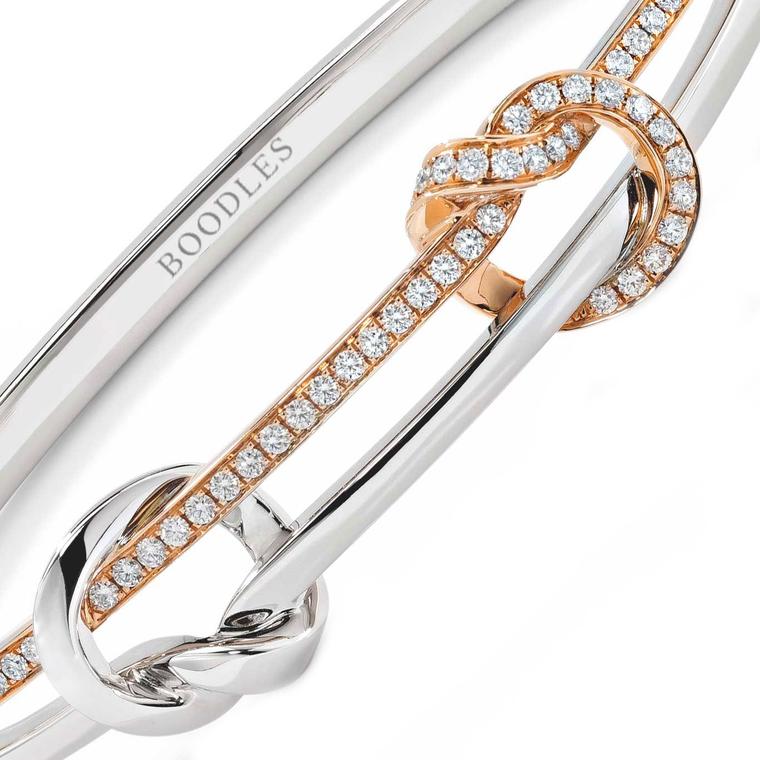 Deceptively simple yet undeniably chic, it's no wonder the knot continues to be such a popular motif in fine jewellery.
The knot is by no means a new motif in jewellery design. The Hercules knot of two intertwined ropes in ancient Greek jewellery was also known as the marriage knot and symbolised the strength of a couple's union. The love knot continued to be a recurrent symbol in medieval and Renaissance jewellery, while the Celtic knot found in Scottish and Irish jewellery represents infinity.
An intertwined symbol of love and friendship, the knot makes an elegant appearance in the contemporary Tiffany & Co. jewellery collections by Paloma Picasso. Unlike the more feminine bow with its trailing ribbons, the simple knot has a decidedly unisex appeal, and the French designer has incorporated the motif into rose gold jewels for both men and women.
See more Paloma Picasso for Tiffany jewellery designs
The knot motif looks particularly beguiling when two different coloured metals are combined to emphasise the gentle curves and subtle twists of the design.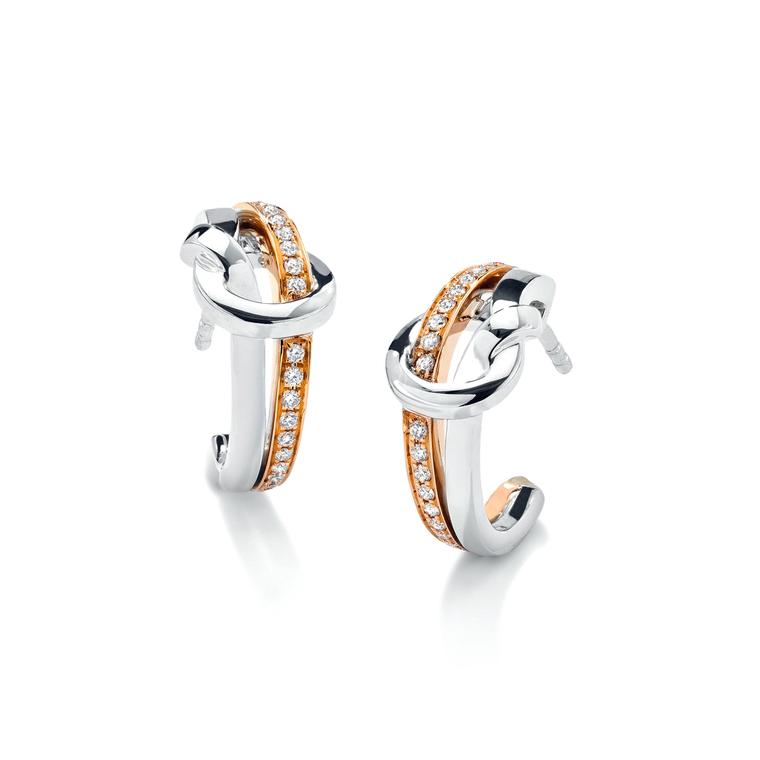 The recently launched Knot collection of Boodles jewellery is inspired by the traditional sailor's knot, which includes pieces in both white and rose gold. Boodles designer Aiyna Singh says the nautical and romantic themes that run through the collection represent the idea of strong bonds built on love and affection.
American jewellery designer David Yurman's longstanding fascination with knots is the inspiration behind the Labyrinth collection. Designed by David in collaboration with his wife Sybil and son Evan, it features interlocking strands of metal in a classic cable design or covered in diamond pavé. Stacked on top of each other in twos or threes, these David Yurman rings in yellow or rose gold have the effect of a continuous loop of bejewelled rope.
British jewellery designer Stephen Webster presents a more colourful take on the knot design in his typically flamboyant Forget Me Knot collection. Cascades of diamond-set ribbons in white, yellow or rose gold are tied together on jewels featuring coloured gemstones such as rubies, emeralds, sapphires, garnets and crystal haze. Not for the faint-hearted, this range of Stephen Webster jewellery was inspired by a 1980s TV series called Bouquet of Barbed Wire and has all the hallmarks of Webster's bold and edgy signature style.
See more flamboyant Stephen Webster jewellery
For those about to tie the knot, the design can be incorporated into a stunning diamond engagement ring, such as this solitaire in rose gold by Forevermark - the jewellery brand owned by De Beers. The knot has long also been a signature design for New York-based Finn Jewelry, whose Love Knot collection includes green tsavorite or pink sapphire rings.
Coiled on top of a ring or loosely fastened around the wrist, the knot motif exudes elegance and sophistication, whichever way you tie it. 
Boodles earrings from the Knot collection in 18ct white and rose gold set with round brilliant-cut diamonds, inspired by the clean lines of the classic sailor's knot.

Tiffany bangle in 18ct rose gold with a sleek knot design from the men's jewellery collection designed by Paloma Picasso.  

An elegant 18ct rose gold ring from French designer Paloma Picasso's collection for Tiffany & Co.

David Yurman triple loop ring in 18ct yellow gold set with 0.64ct of pavé diamonds from the designer's new Labyrinth collection.

A 1980s TV series called Bouquet of Barbed Wire provided the inspiration for Stephen Webster's Forget Me Knot jewellery collection, which includes this white gold and turquoise crystal haze cocktail ring.

Diamond-set ribbons are tied into extravagant knots on these dagger earrings in white gold and turquoise crystal haze from Stephen Webster's Forget Me Knot jewellery collection.

Forevermark Encordia solitaire diamond ring in rose gold.

The knot motif looks particularly beguiling when two different coloured metals are combined to emphasise the subtle twists of the design, as in this Boodles Knot bracelet.