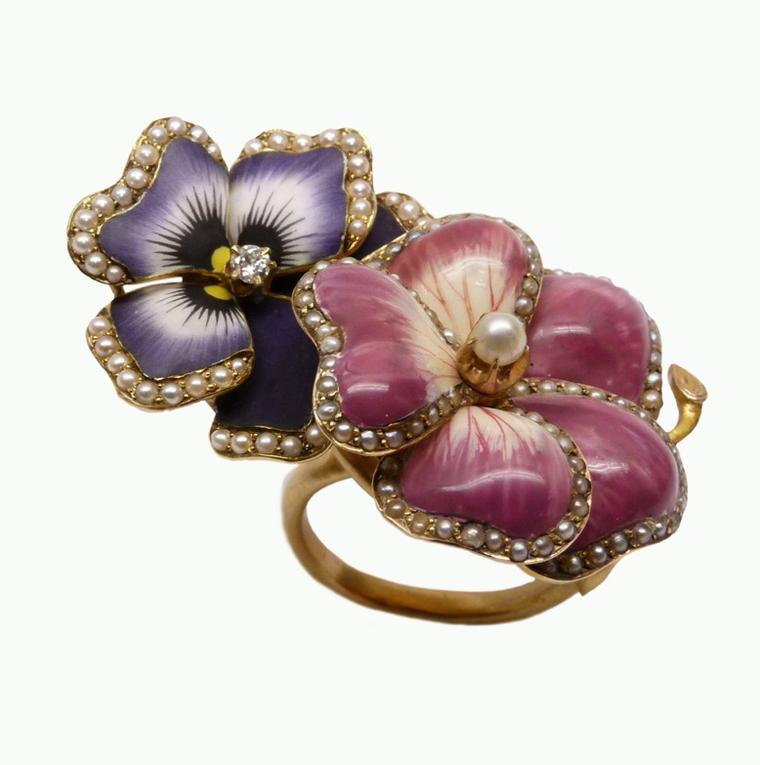 Photographer and art historian turned jewellery designer, Eliane Fattal launches Pensée collection of jewels in collaboration with S. J. Phillips, dealers in fine antique jewellery. This is Eliane's second collection together with S. J. Phillips of Bond Street, following the success of her first range of diamond jewels called 'Metamorphosis'. Read more about the Metamorphosis collection by clicking here.
Eliane follows a similar approach and takes a forgotten type of antique jewel and by re-mounting and giving them a little twist, once again makes them objects of desire. In this collection Eliane has alighted upon the charming enamel flower brooches of the 19th century, mostly from the United States, that were usually given as gifts loaded with the significance of the language of flowers. In Eliane's hands these relics of the past become something exciting and desirable for a new wave of jewellery lovers.
I found myself reaching out for the delicate, richly coloured flowers with the same enthusiasm I pluck at exquisite fresh blooms at the florist. The brilliant colours of this delicate art come alive again and looking dewy-fresh and just picked from a leafy dell, perch on fingers and drape around the neck in a most pleasing way.
Eliane, who herself was a frequent customer of S.J. Phillips would often find a piece of antique jewellery she liked but find it un-wearable either because of its size or weight or style. The workshop on site became used to her requests to 'change this a little' or 'set it like this' and so was born the idea of Eliane formally creating a collection in collaboration with this generations old antique shop.
I love the exuberance and opulence of Eliane's work that brings back the joy of the original jewels from times past when they really knew about indulgence and understood the art of the jeweller.
'Pensée', consists of eight pieces; five rings, a pair of earrings, a necklace and a unique and rather unexpected foot jewel. And clients can order any of the designs with their own choice of flower colours from S.J. Phillips very own garden of everlasting blooms.
The 'Pensée', collection will be available from April at S.J. Phillips, 139 New Bond Street, London W1.
Eliane Fatal ring, created in collaboration with S J Phillips, using vintage enamel flowers.