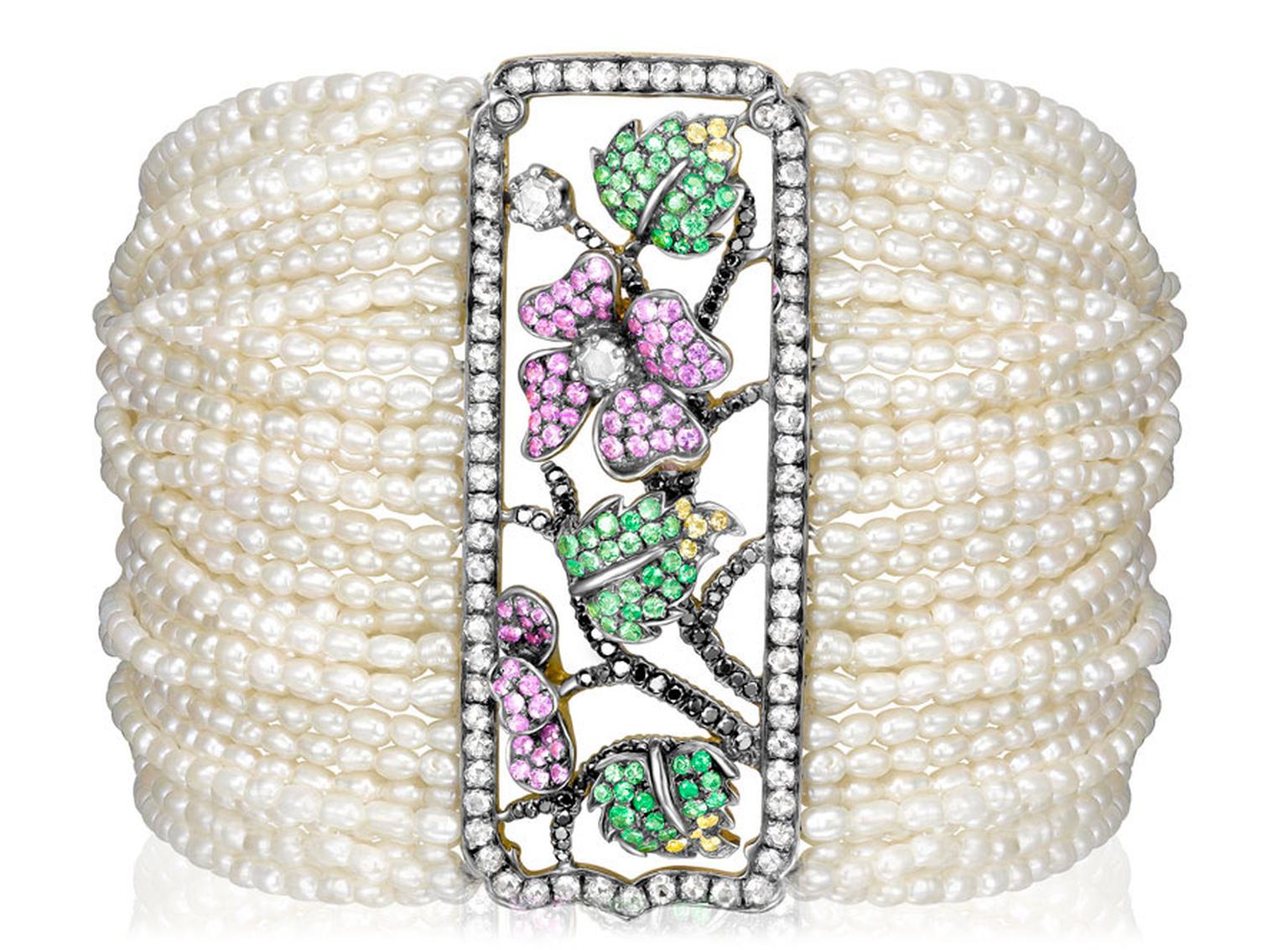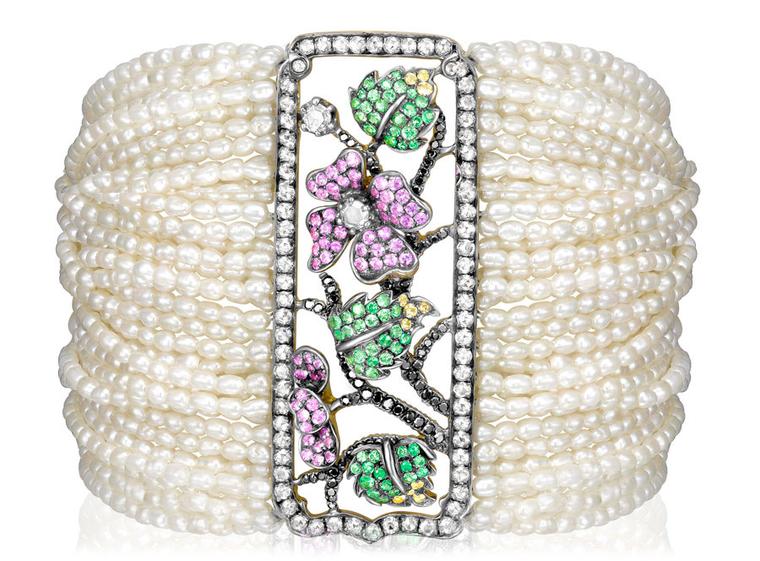 This year has already seen some marvellous jewellery from London-based retailer and jeweller Annoushka with the help of Wendy Yue, and now another guest designer is making waves there too. Chinese jeweller Dickson Yewn has brought his own particular flavour to Annoushka with his very own collection as guest designer. With a name that is a homonym for "luck", this should come as no surprise.
At first glance it's clear to see that Yewn, a dapper young man, holds on to his Chinese heritage closely, embellishing even his more contemporary designs with flourishes, including the peony flower, mostly seen in Chinese art. Dickson Yewn told me when he was in London for the launch that after studying Fine Art and then film he turned to jewellery. "The story of Chinese art has been told but I wanted to continue a story about jewellery that hasn't been told for 150 years." Yewn says that frailty is his inspiration, be it in the delicacy of a rose or a piece of porcelain. He loves the idea of beauty and frailty combined which is why he insists on lightness in his jewels.  
Founder of the eponymous jewellery business and previously the co-owner of Links of London, Annoushka Ducas says herself "I so admire Dickson's dedication to reviving the fineness and beauty of Chinese arts and culture in his designs. He is genuinely passionate about his craft and I love the fact his work is imbued with so many cultural reference associated with luck and good fortune". This heritage is combined with a period spent in the New York art scene and the Fashion Institute of Technology in the mid 1990s. One could say he pours influences from both sides of the world into these creations.
The prices range from £7,400 to £28,000, the pieces are fine examples of understated intricacy. Colours are sparingly deployed but when they are it is to luscious effect: take a look at the white gold, diamond, sapphire, tsavorite and black rhodium plate Glorious Peony pendant. Besides the seemingly miniature world he has created with bejewelled flowers growing delicately out of a vase, we see yellows, pinks and greens subtly playing of the white gold. Similarly, the white gold, diamond and jade Wish Fulfilling Lattice ring features bold geometric lines set with diamonds and topped off with a deep green piece of jade. And this is the ring that caught the eye of design savvy Michelle Obama who was spotted wearing at the dinner held for Queen Elizabeth II and Prince Philip at the US Embassy residence in London in August 2011. She combined Dickson Yewn's precious ring with Tom Binns costume jewellery to dramatic effect.
Using various different permutations on flowers we see intricate diamond settings gorgeously realised in plain white gold. One of the highlights is the diamond and black rhodium plate Glorious Peony necklace that utilises the shape of the Chinese national flower to playful effect. Elsewhere you'll find confidently realised flowers in rings, earrings and necklaces.
For me though, the best examples of Dickson Yewn's detailed design and exuberant celebration of Chinese heritage are two totally different pieces. There is the seemingly flowering white gold and diamond Paper cut bracelet that uses its almost monochromatic zeal to give an added boldness to the energetic shapes within. The other is the white gold, diamond, tsavorite, sapphire Manchurian Garden bracelet that unlike the Paper cut bracelet sees colour employed to devastating subtle effect.
At the same time Yewn's pieces have an antique air about them, a nostalgia perhaps for times past, achieved by the use of rose cut diamonds and strands upon strands of delicate pearls. Pearls, in fact were used in antique Chinese jewellery rather than diamonds hence his choice. 
Dickson Yewn has like Wendy Yue previously, shown that Annoushka is somewhere where one can go and find playful, intricate, and beautifully realised jewellery. You don't need to have an intricate knowledge of Chinese culture to know that who ever gets one of these is very lucky indeed.
18ct white gold, diamond, tsavorite, sapphire Manchurian Garden bracelet by Dickson Yewn for Annoushka. Price from £13,400.00

Michelle Obama wore a Dickson Yewn diamond and jade ring along with Tom Binns costume jewellery for the dinner held in honour of Queen Elizabeth II and the Duke of Edinburgh in London. An original choice of jewels that shows she has very individual taste.

18ct white gold and diamond Paper cut bracelet by Dickson Yewn for Annoushka £25,000.00

18ct white gold, diamond and black rhodium Glorious Peony earrings by Dickson Yewn for Annoushka. Price from £18,500.00

18ct white gold, diamond and black rhodium plate Glorious Peony ring By Dickson Yewn for Annoushka. Price from £16,000.00

18ct white gold, diamond and black rhodium plate Glorious Peony necklace by Dickson Yewn for Annoushka. Price from £27,000.00

18ct white gold, diamond and jade Wish Fulfilling Lattice ring by Dickson Yewn for Annoushka (from £28,000).

18ct white gold, diamond and black rhodium plate Imperial Fab pendant by Dickson Yewn for Annoushka. Price from £14,800.00

18ct white gold, diamond, sapphire, tsavorite and black rhodium plate Glorious Peony pendant by Dickson Yewn for Annoushka. Price from £15,500.00

18ct white gold, diamond and rhodium plate Imperial Fan earrings by Dickson Yewn for Annoushka. Price from £15,00.00

18ct white gold, diamond, tsavorite, sapphire Manchurian Garden bracelet by Dickson Yewn for Annoushka. Price from £13,400.00