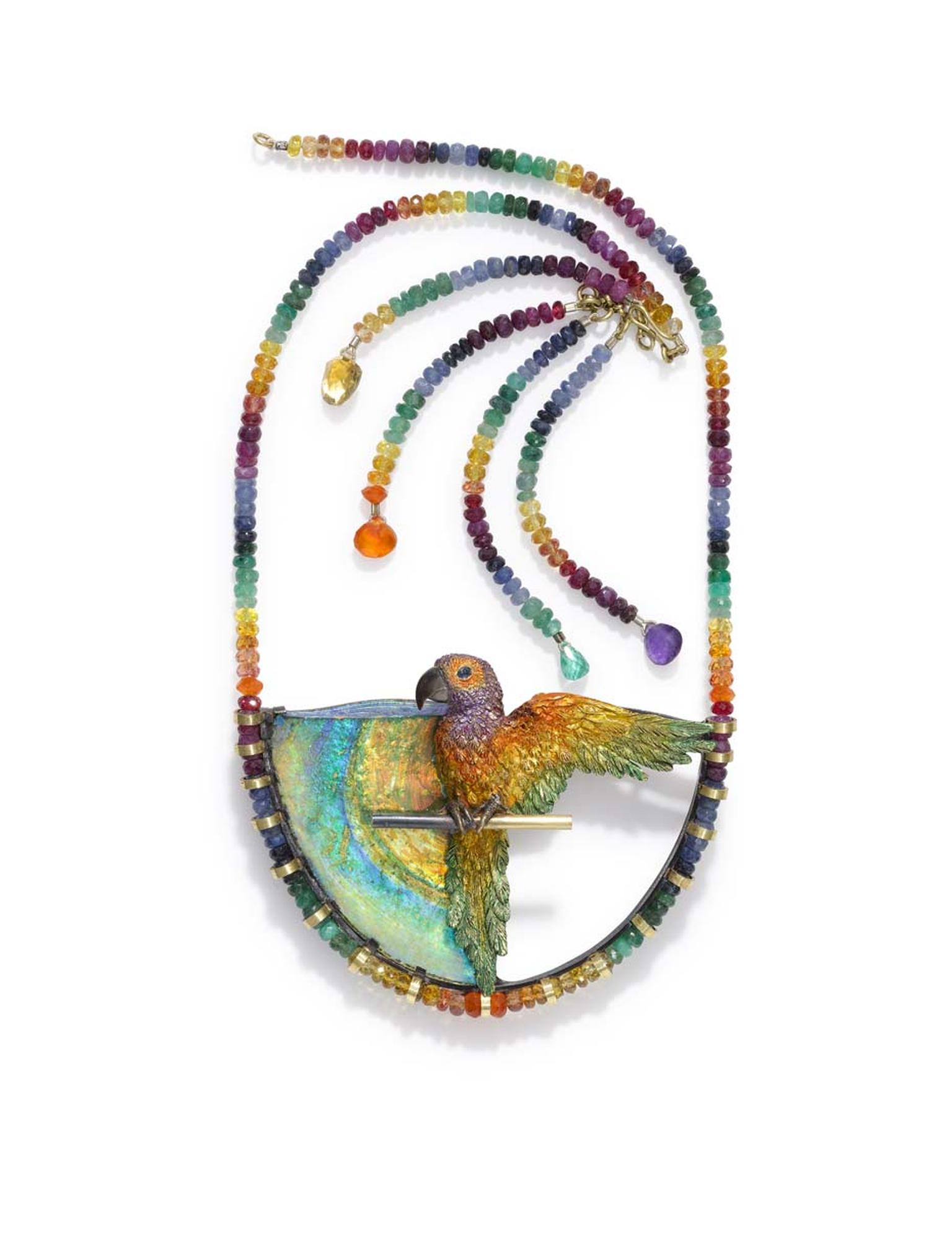 Described as "a mysterious magical wonderland", a new exhibition by multi-talented artist goldsmith Dr Kevin Coates at the Ashmolean Museum in Oxford features contemporary jewellery inspired by medieval folklore.
 'A Bestiary of Jewels' is a poetic elaboration of the bizarre medieval encyclopaedias known as 'Bestiaries', which bring together lore and myth regarding animals. Coates has paired a series of creatures with their significant human to represent "the coupling of two individuals meeting across the great man/animal divide". Colourful, rich jewels - which can be removed and worn - are mounted in a delicately painted 'page of the book'. The designer himself describes the work as "a voyage of discovery…of this dream Ark of mine".
Showing at The Ashmolean Museum until 30 March 2014, 'A Bestiary of Jewels' will then tour around the UK to Ruthin in north Wales, Welbeck in Nottinghamshire and Edinburgh, throughout the year and early 2015.
Hailed by The Times as "Britain's leading artist-goldsmith, with a renaissance imagination and an ingenuity to match", Coates is renowned for his fantastical and meticulous work, created from gold, precious stones and other exotic materials.
His jewellery and table-pieces can be found in private and public collections worldwide, including the V&A and British Museum, and the Museum of Fine Arts, Boston. Trained at the Central School of Arts and Crafts and later at the Royal College of Art, Coates is also an accomplished professional musician as well as a Liveryman of the Goldsmiths' Company and a Fellow of the Royal College of Art.
On 8 February 2014, Coates will give a talk at the Ashmolean Museum, revealing some of the captivating stories linking beasts with humankind that inspired his new collection of jewels. To watch a short film that introduces Kevin Coates and his 'Bestiary of Jewels', click here.
Kevin Coates 'A Barbary Ape for Rose Macauley' (b. 1950) brooch in a wall in silver, gold, white mother-of-pearl, black horn, grey horn, baroque pearl, 19th century Venetian gold glass tablet, beetle wing cover inlay, amethyst and white gold pins © Kevin Coates. Image: Clarissa Bruce

Kevin Coates 'A Crow for Ted Hughes' 2012 brooch in a wall mount in gold, silver and diopside. © Kevin Coates. Image: Clarissa Bruce

Kevin Coates unmounted 'A Crow for Ted Hughes' brooch. Image: Clarissa Bruce

Kevin Coates 'A Dodo for Mr Dodgson' 2012 brooch in a wall mount in gold, labradorite, rubies, black horn and white gold. © Kevin Coates. Image: Clarissa Bruce

Kevin Coates ' A Dog for Farinelli' 2013 Brooch in a wall mount in gold, silver, abalone shell and white gold pins. © Kevin Coates. Image: Clarissa Bruce

Kevin Coates 'A Fly for Virgil' 2012 brooch in a wall mount in rose gold, platinum, silver, bone, charoite, opal, abalone, amethyst and white gold pins. © Kevin Coates. Image: Clarissa Bruce

Kevin Coates 'A Giraffe for Saint Hillaire' 2013 Pectoral brooch in a wall mount in carved 'fire' carnelian, sapphire, carved engraved and dyed bone, silver and gold pins. © Kevin Coates. Image: Clarissa Bruce

Kevin Coates 'A Hedgehog for Brahms' 2005 brooch in a wall mount in 20ct gold, silver, coral and abalone shell. © Kevin Coates. Image: Clarissa Bruce

Kevin Coates unmounted 'A Hedgehog for Brahms' brooch. Image: Clarissa Bruce

Kevin Coates 'A Lion for Alexander' 2012 neckpiece in a wall mount in gold, turquoise, citrine, black star sapphire and silver (back plate). © Kevin Coates. Image: Clarissa Bruce

Kevin Coates 'A Parrot for Flaubert' 2012 neckpiece in a wall mount in gold, black mother-of-pearl, ancient iridescent glass fragment, rubies, sapphires, emeralds, carnelian, citrine, amethyst and silver. © Kevin Coates. Image: Clarissa Bruce

Kevin Coates 'A Rhinoceros for Kaendler' 2013 ring in a wall mount in gold, silver, 'harlequin' opal and yellow sapphires. © Kevin Coates. Image: Clarissa Bruce