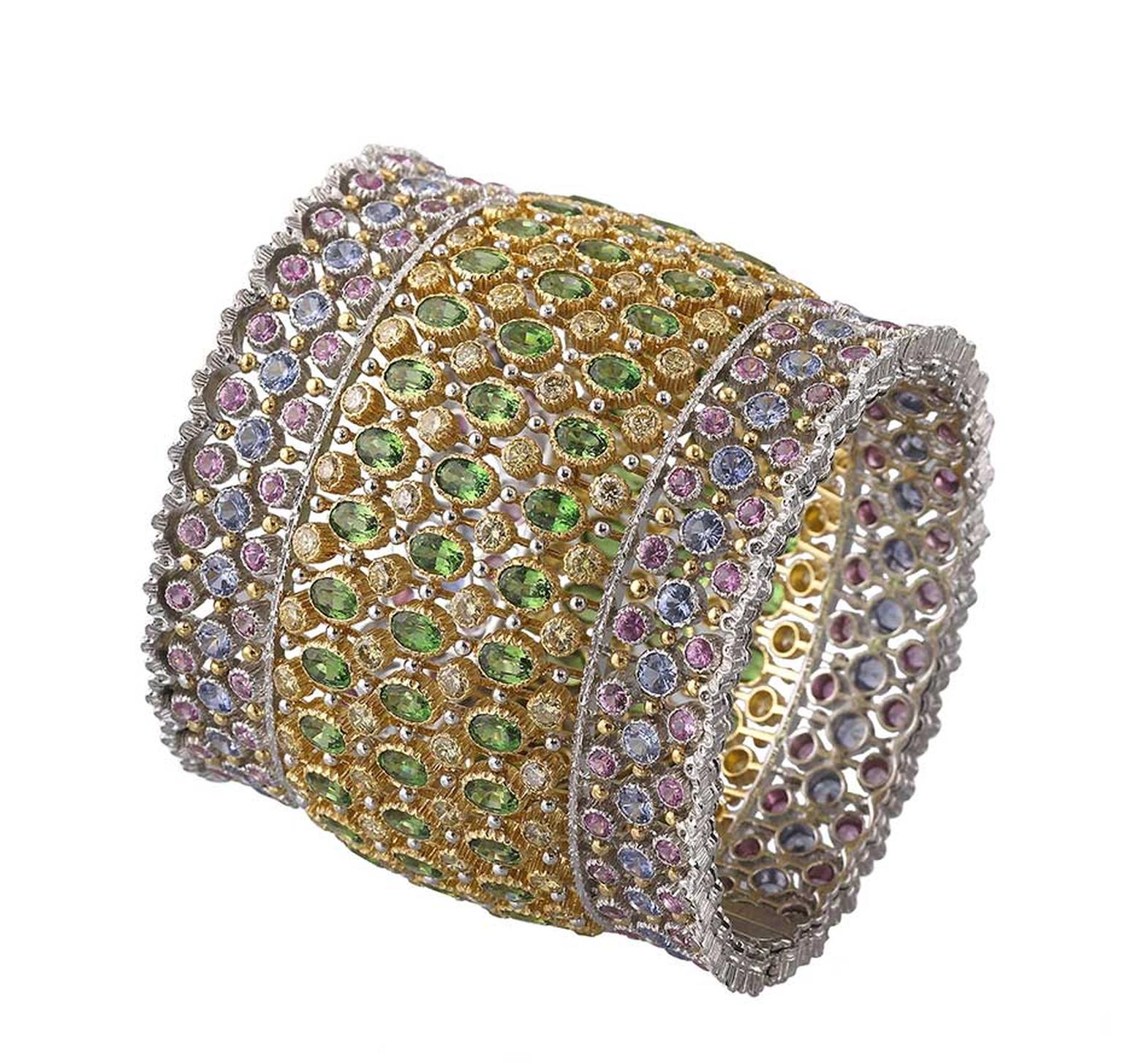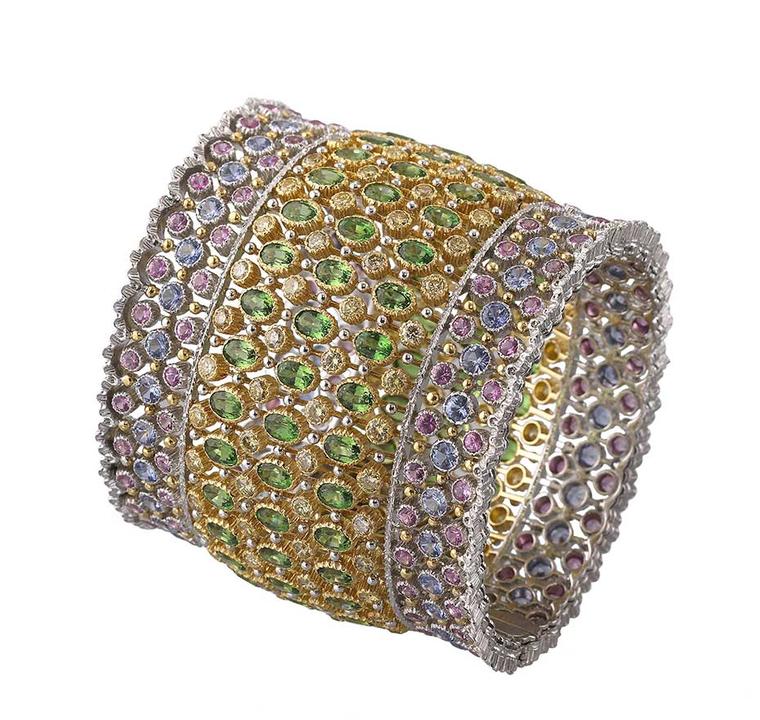 By Francesca Fearon in London
Paris Haute Couture week was the perfect moment to familiarise myself with the silky golden textures and the intricate tulle and lace-like patterns of Buccellati's new Dream Bracelets collection.
There are many parallels that can be drawn between the skills and artistry of the haute couturier crafting his embroidered gowns and Buccellati's Italian artisans using their distinctive and highly refined goldsmithing techniques to make these remarkable jewelled cuffs.  
Buccellati is famed for its goldsmithing, a family passion since the 18th century, using techniques that date back to the Italian Renaissance. The skill is usually expressed in one-of-a-kind pieces, but every so often the family launches a collection, which on this occasion concentrates on cuff bracelets.
"We normally only produce about 10 bracelets a year, but this time there are more than 45," says Maria Cristina Buccellati, head of marketing and sister of designer Andrea Buccellati.
Buccellati's cuffs are engraved with the "rigato" technique, which scores ultra-fine parallel lines in the gold to give it the appearance of silk. The gold is then punctuated with precious gems, notably diamonds, much like an embellished couture dress. Other techniques are used to create lace-like effects in the gold, which is then set with diamonds, and an incredibly delicate tulle netting technique that is the most demanding to make because each pentagon-shaped hole has to be sawn with a fine blade. These fine honeycomb patterns are then enhanced with a series of precious gems.
In the new collection there is one such Buccellati bracelet set with yellow, pink and blue sapphires and tsavorites.  Unsurprisingly, "one lace cuff can take up to nine months to make," points out Maria Cristina.
Andrea Buccellati and his father Gianmaria designed the collection, however the next generation, Andrea's daughter Lucrezia, is becoming involved in Buccellati's creative work. She recently collaborated with her father on the jeweller's first-ever line of engagement rings and also on one-of-a-kind bejewelled iPhone and iPad covers using the same goldsmithing techniques.
"For a young woman, an iPhone is the same concept as her mother carrying a jewelled compact in the past," points out Maria Cristina - a perfect accessory for an haute couture gown, just like the cuffs.
Buccellati gold lace-effect cuff bracelet with diamonds.

Buccellati cuff bracelet in gold, "regato" engraved and set with 19.44ct green jade and blue sapphires.

Buccellati cuff bracelet in gold, decorated using the "regato" engraving technique and set with round brilliant diamonds.

Buccellati cuff bracelet with emerald and diamonds, engraved using the "regato" technique, a Buccellati speciality.

Buccellati cuff bracelet with emeralds, rubies and diamonds, engraved to resemble silk using the "regato" effect.

Buccellati cuff bracelet set with a 45.44ct tourmaline and diamonds, and engraved using the silk-like "rigato" technique.

Buccellati "tulle" bracelet with round-brilliant diamonds, created using an incredibly demanding goldsmithing technique that requires each pentagon-shaped hole to be sawn individually with a fine blade.

Buccellati cuff bracelet with 51.41ct tsavorites, Fancy diamonds and blue and pink sapphires.