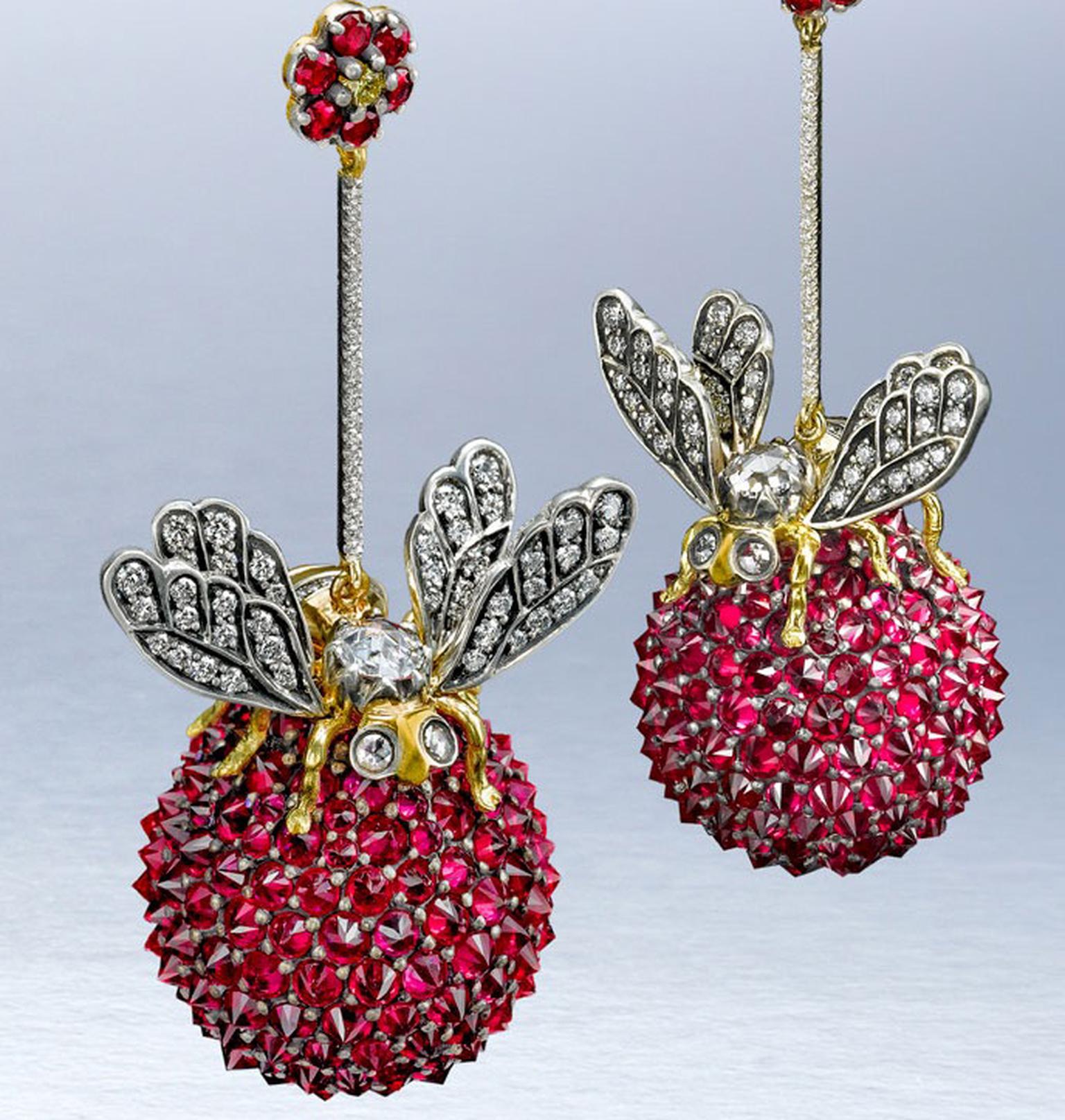 If it is a pearl octopus weaving his diamond tentacles up your wrist or be-jewelled gauntlet that you are after then head to Shizaru in Mayfair for the latest show of artist jewels curated by Joanna Hardy where you will see creations that don't look like anything that has been served up before. The 'Art Rocks:Contemporary Jewellery' exhibition is curated by ex-Sotheby's jewellery expert Joanna Hardy. The show will bring together the work of 10 artist-jewellers based on the research from Hardy's book on collecting contemporary jewellery that is out early next 2012. Hardy has teamed up with Shizaru, the contemporary art gallery that opened on Mount Street in London this July and the exhibition kicks off on the 25th November. But why is jewellery being shown in an art gallery? By bringing jewellery into a contemporary art gallery Shizaru, owned by the Khalili brothers whose father Prof. Nasser David Khalili is a well-respected art collector and expert,  is hoping to take jewellery out of its pigeon-hole that relegates it to either being a commodity tied to the value of a gem, a craft or at the most a decorative art. Hardy  believes that it is time that jewellers were seen in the same light as other artists. "Jewellery has had this problem of being seen as a commodity and not an art form and the over-marketing of large diamonds has brought this about. So while my jewellers are using diamonds, they are using them in a very imaginative way to complement the piece rather than as the big huge solitaire." Shizaru, the name of the long lost fourth of the 'Three Wise Monkeys', specialises in contemporary artists who offer a high level of conceptual rigour combined with exceptional craftmanship. "Creativity has been sub-divided into disciplines such as design, fine art or jewellery," explains Simon Sakhai, who runs the gallery. "But we are more comfortable mixing the concepts and everyone has an idea of what they consider to be more or less 'artful'. As a gallery we try to have a range of creative production whatever the medium. We see jewellery as an important part of the artistic dialogue and should be included in the great intellectual discourse of art." The ten jewellers are all very different in their approach but what unites them is their skill in equal measure as artists and craftsmen. "I believe jewellery should reflect the wearer's individuality but to find well made, unique jewels is often not easy," explains curator Joanna Hardy. "These ten eclectic international jewellery designers and makers, some of whom are established master craftsmen and others that are emerging or have never showcased in the UK before, have this talent. This exhibition puts jewels on a platform where they can be appreciated as wearable art." Shaun Leane's 'The Glove' is an armour-like white gold lace long evening glove set with 5,000 diamonds custom-made to fit the petite hand of the eccentric patroness Daphne Guinness. Kevin Coates' who is an associate artist at The Wallace Collection in London will be showing brooches of mythical creatures from the 'A Notebook of Pins' collection are as much miniature ornaments as lapel-enhancers. When not out and about, the shepherd Cerembus from Ovid who metamorphosied into a stag beetle can be displayed on the wall against his own notebook page detailing the inspiration, idea and materials that went into his making. Much of British jeweller Zoe Arnold's work is related to her poetry and her miniature, highly detailed sculptures of flies, chairs, dead birds and chests of drawers may not be an obvious choice for the red carpet but has won her awards and a following of jewellery collectors. ARK, who work out of New York create Renaissance-inspired jewels, often incorporating antique elements and learnt their skills from 30 years of restoring jewels for houses such as Van Cleef & Arpels, Boucheron and Cartier. Each piece comes with its own display case echoing the style of the jewel. Bug-eyed diamond bees perch atop luscious balls of rubies that look sweet enough to eat. Fred Rich's beautiful enamels particularly appealed to the organisers who looked for jewellers using age-old crafts such as enamelling. The work of Leo de Vroomen employs meticulous hand-made techniques with a contemporary look. But for ancient techniques, Sevan Bicakci is one to look out for. Using micro-mosiacs, intaglio, foil-backed diamonds and hand-made settings his jewels are infused with the beauty of a long gone age. Sophia Mann's sculptural creations turn hard stone into evocative erotic sculptures and Atelier Zobel from Germany is based on the 37 years of Michael Zobel's pioneering work. Gimel, run by Kaoru Kay Akihara in Japan, will show some of its breathtakingly delicate jewels inspired by nature. Art Rocks: Contemporary Jewellery. Shizaru Gallery, Mount Street, London 25 November 2011 - 21 January
Kevin Coates, Mounted pin-brooch, Fragonard's L'Amour vole, 20ct.gold, pink green baroque pearl, pink green mother-of-pearl, silver, 18ct. white gold pin. POA.

ARK, lilies, 2007, madeira citrine, 18 carat gold and enamelled 24 carat gold leaves. POA.

Seven Bicacki, Serpent Cuff Ring, 2010, diamonds, rubies, silver and gold, Courtesy the artist and Shizaru. POA.

Sevan Bicacki. Kraken cuff-ring. Gold, silver, diamonds, pearls. POA

Shaun Leane, The Glove, white gold and white diamonds. The piece is made up of more than a thousand grams of 18ct white gold and is set with over 5,000 pavé white diamonds. POA.

Sophie Mann. Large back necklace Silver, Coral, Amethyst, Garnet, Sea Urchin. POA

Sophia Mann. Ring Gold, diamond bead, coral and ruby. POA

Zoe Arnold, Autumn Rain necklace. oxidised silver, mammoth ivory, faceted agate, porcelain bird, faceted pearls, 18ct gold. POA.

Zoe Arnold, Double fly ring. 18ct gold, silver, emerald druzys. POA.

Kevin Coates, Cerambus, Mounted pin brooch, 2007, green opal, stag-beetle head and abdomen case, white gold and yellow gold. POA.

Atelier Zobel, Bracelet, Silver, gold, rose and orange coloured diamonds. POA.

Gimel, Chilli Pepper Brooch. POA.