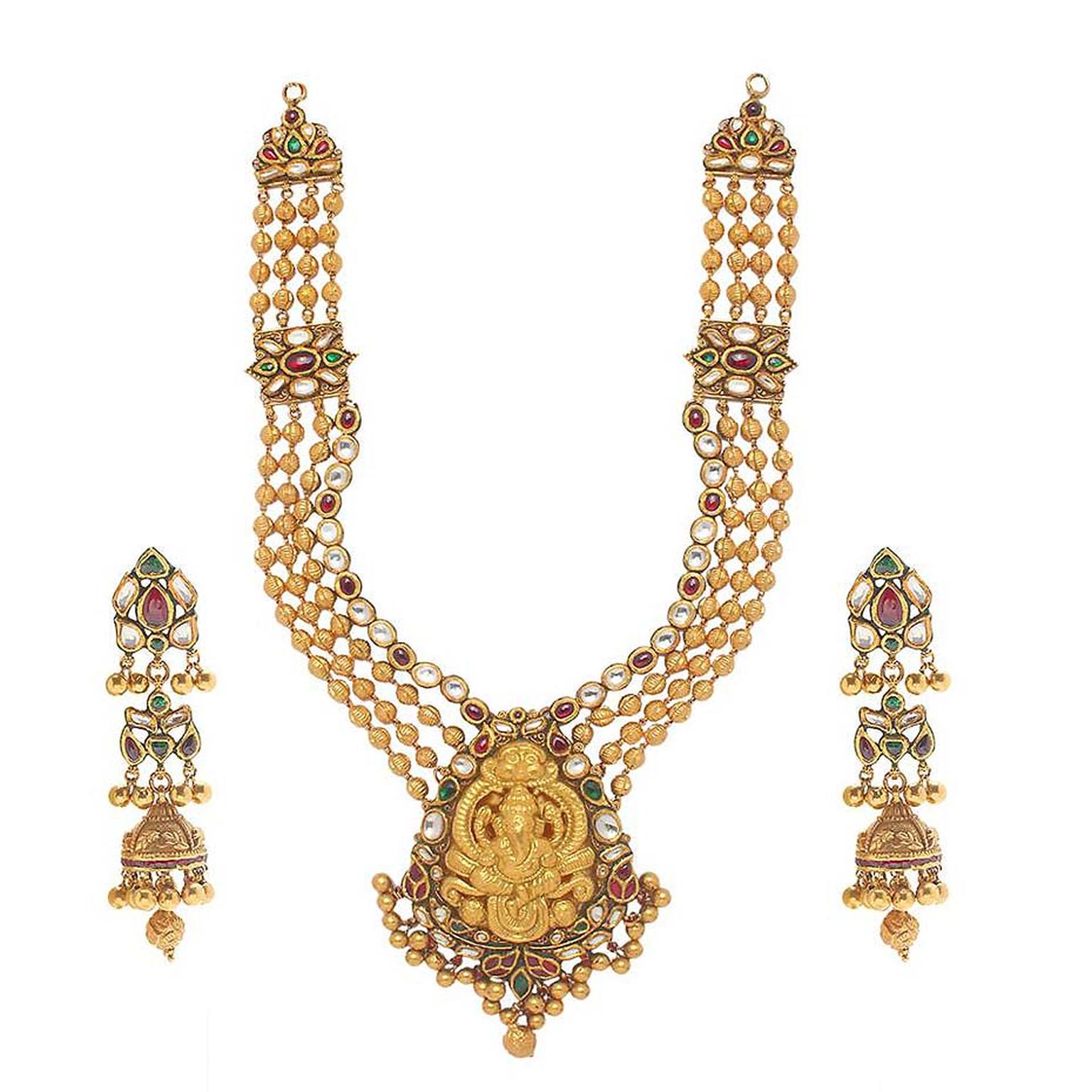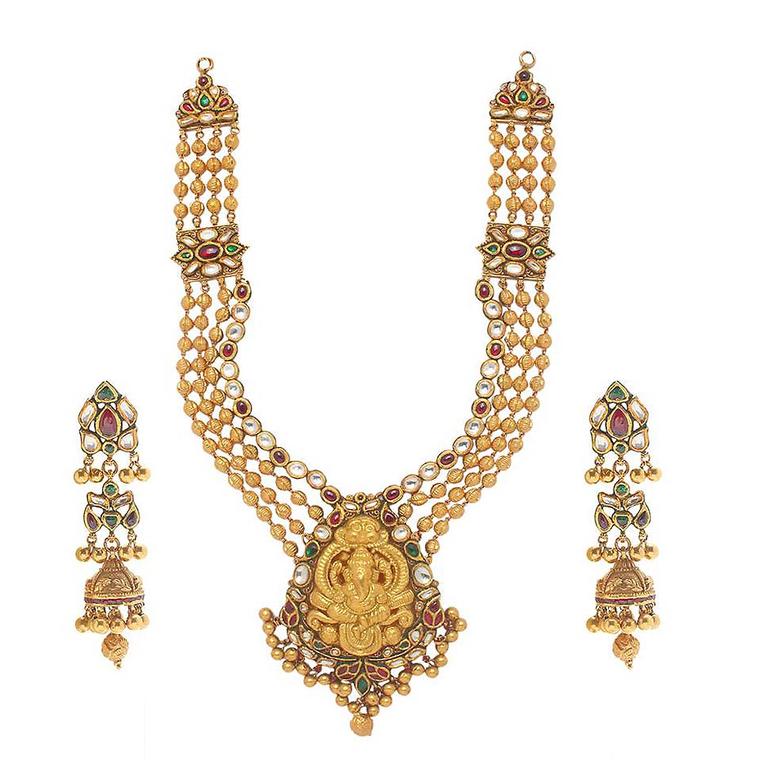 By Mridu Khullar Relph in New Delhi
With the festival season powering ahead at full steam in India and Diwali just passed, Anmol Jewellers is celebrating the victory of good over evil with the new 'Temples of India' collection.
By placing Lord Ganesh and Goddess Laxmi at the centre of the jewels, this luxury Indian jeweller has imbibed the collection with the traditions of Diwali, a time of gratitude for wealth and prosperity, and the modern celebration of gifting jewellery and bringing new statuettes of the Gods - especially Laxmi, the goddess of wealth, and Ganesh, the lord of success - into the house.
The six necklaces and two pendants are handcrafted in 22ct gold with either a Laxmi or a Ganesh idol at the centre, with a generous sprinking of rubies and emeralds. Elaborate and detailed, the idols are crafted using the repousse technique, which involves hammering on the reverse side of the gold to create a raised design on the front. 
In keeping with the temples theme, the designs utilise a classic form of Indian jewellery making known as kundan, in which gems are set with gold foil between the stones. The style, one of the oldest forms of jewellery made and worn in India, originated centuries ago in the palaces of Rajasthan and Gujarat and can be seen in temples throughout the country. The collection is generously embellished with kundan and pearls, a reflection of the lavishness and grandeur of these ancient places of worship.
The whole collection remains true to tradition and the culture of celebration, while being rooted firmly in the present. With the wedding season just beginning, Anmol's Temples of India jewels would make the perfect adornment for any bride to be.
Laxmi is carved in 22ct gold in this intricately carved set from Anmol Jewellers' Temples of India collection, which was designed for the festival season.

Embellished with kundan and pearls, the design of this 22ct gold set includes an idol of the Goddess Laxmi at the centre.

In celebration of the festival season, India's Anmol Jewellers have launched the new Temples of India collection featuring beautiful handcrafted Laxmi and Ganesh idols.

The Goddess Laxmi is the centrepiece of this necklace, from the Temples of India collection by Mumbai-based Anmol Jewellers.

This Temples of India necklace set by Anmol Jewellers is crafted in 22ct gold and embellished with kundan around an intricately carved Laxmi idol.

At the heart of this gold Temples of India pendant by Anmol Jewellers sits Ganesh, the Lord of success.

The Laxmi idol at the centre of this Anmol Jewellers pendant set is embellished with pearls and kundan, an ancient form of Indian gemstone setting.

A kundan necklace and matching earrings from the new Temples of India collection by Anmol Jewellers.