Sleek and sophisticated with a distinct vintage appeal, there's nothing like an emerald cut engagement ring to ramp up the wow factor.
The 100.20ct emerald-cut diamond set to be auctioned at Sotheby's New York later this month has certainly whet our appetite for this beautiful diamond cut.
Designed to emphasise the lustre of the gemstone, the emerald cut lends itself particularly well to larger gemstones as it looks elegant rather than "blingy", even when the carat weight approaches rock territory. It is no wonder that emerald cut engagement rings have graced the fingers of celebrities both past and present, from Elizabeth Taylor and Grace Kelly to Beyoncé and Angelina Jolie.
While the 100ct Sotheby's diamond, with its estimated value of $19-$25 million, is beyond most people's wildest dreams, it's good to dream big, so we have rounded up a selection of the finest emerald cut diamond engagement rings that money can buy. Just don't ask us how much they cost - these are all strictly price on application.
The emerald cut engagement ring from David Morris, left,  displays the centre stone in all its stunning simplicity with diamond-set shoulders.
The impact of those beautiful long facets is even greater when the cut is applied to a coloured diamond. Just picture your friends' faces when you casually flash your emerald-cut diamond engagement ring from De Beers, set with a fiery orange yellow diamond, the colour of which is further accentuated by the white diamonds sparkling on the shoulders. The yellow diamond on another one-of-a-kind De Beers emerald cut diamond engagement ring seems to light up from within with a warm buttery glow.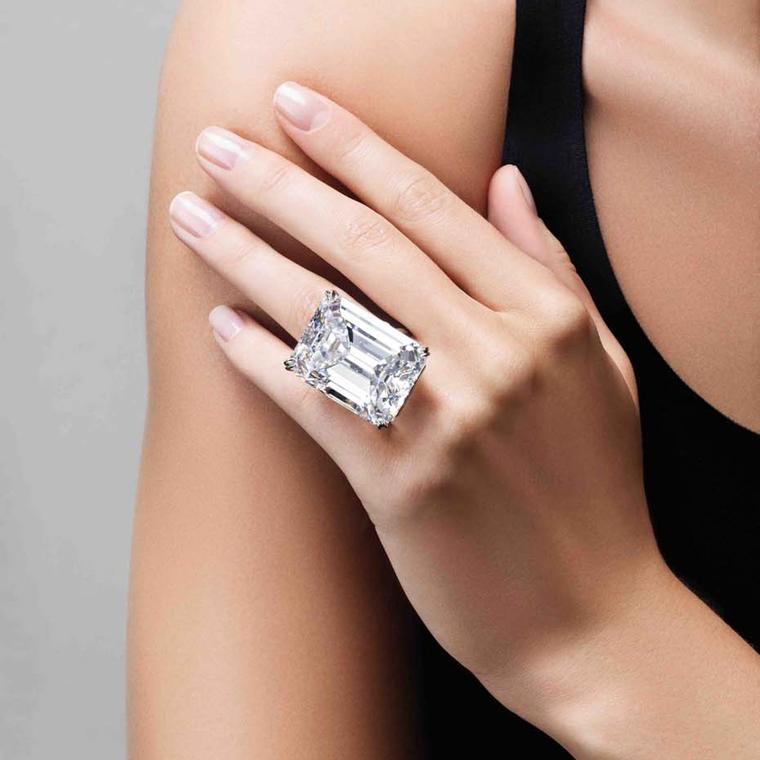 The see-through nature of an emerald-cut diamond will emphasise any flaw or inclusion in the stone, so it is important not to compromise on quality when buying an engagement ring. The 100ct gemstone going under the hammer at Sotheby's New York has been described as the "ultimate" diamond - a Type IIa that is internally flawless with D colour. Stay tuned for news of the auction results to find out whether this perfect emerald-cut diamond enters the record books.
Read our guide on how to buy an emerald-cut diamond engagement ring